Russell Westbrook Thanks His Wife For Her Sacrifices And Celebrates Being A Dad: 'I've Been Blessed And Grateful'
The successful NBA star is thankful for all his blessings in life.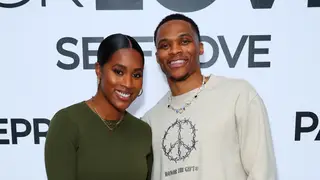 Russell Westbrook loves fatherhood! The proud dad of three spoke highly of the relationship he's built with his children at the 5th Annual Black Love Summit, according to People.
"I've been blessed and so grateful," said Westbrook of his experience as a father. He continued, "That to me is what I'm most proud of. And taking 'em to school, picking them up, that to me keeps me whole and it keeps me going."
He went on to celebrate his wife Nina for "her constant sacrifice."
"She's been holding s**t down from start to finish, and now been able to see her grow into the things that she's been wanting to do while still supporting me and doing stuff with the kids, and doing this and doing that," he expressed about the admiration he has for his wife. "I'm just grateful to have a partner able to do all that sacrifice. Now we're here."
Celebrate those wins! We love to see Black families flourish together.
FYI: Russell Westbrook and Nina Westbrook, who married in August 2015, share twin daughters Jordyn and Skye (3) and son Noah (5).