New Doc 'John Lewis: Good Trouble' Celebrates The Living Icon And His Passion For Social Justice
The 80-year old architect of activism received a well-deserved honor.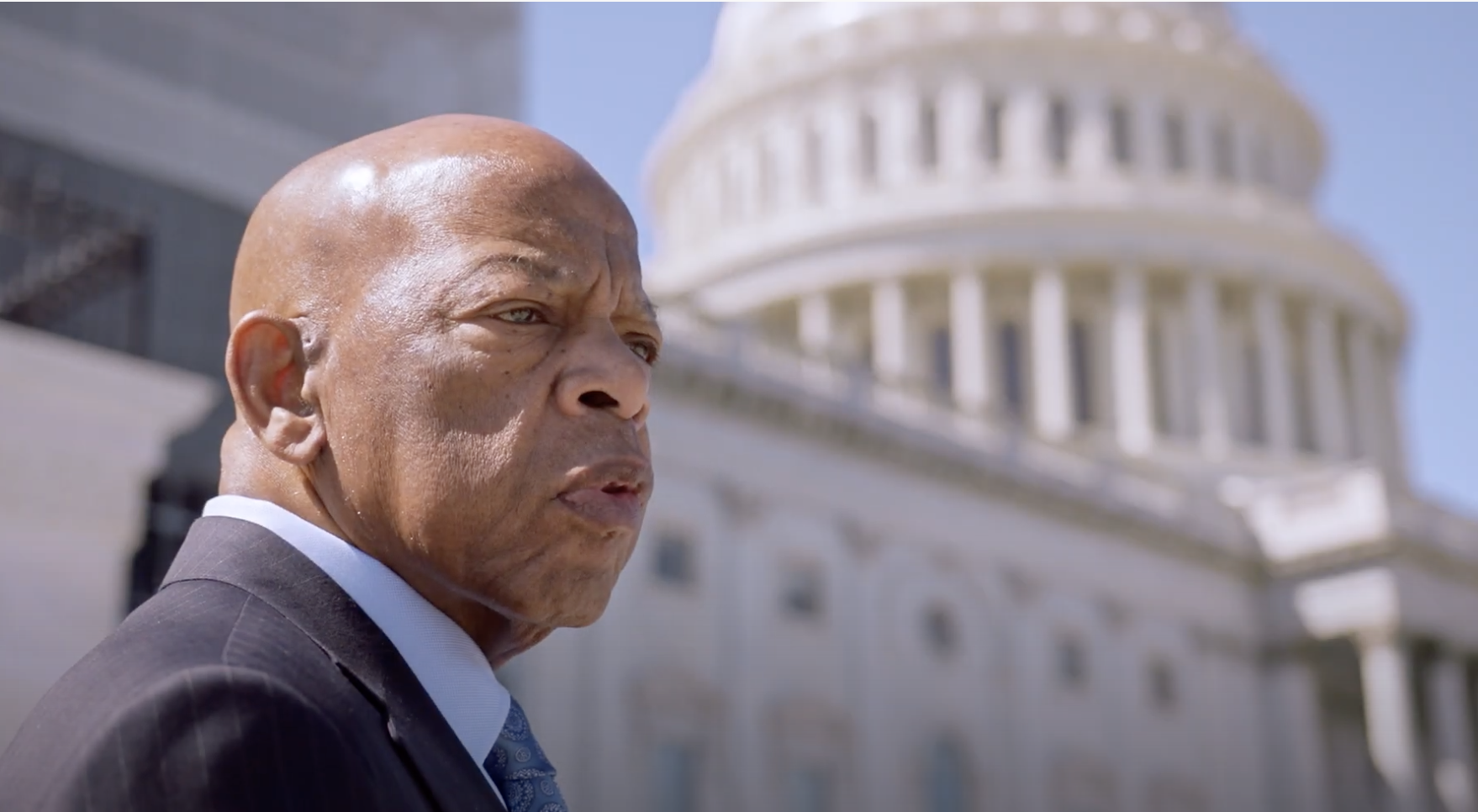 In the past, some media outlets have made the mistake of confusing the late Maryland Congressman Elijah Cummings with Georgia Congressman John Lewis. In all fairness, the two men do share a similar likeness and were dear friends who shared a brotherhood for many years before Cummings passed away last October.
In the upcoming documentary John Lewis: Good Trouble, Cummings even admits to pretending to be Lewis in public to take the burden of being recognized in public off of him. 
For those who don't know, and shame on you if you don't, the film is an introduction to the man who many believe is the greatest living catalyst of the American civil rights movement. Lewis marched alongside Dr. Martin Luther King, Jr. and was one of the "Big Six" organizers of the legendary 1963 March on Washington. Back then, Lewis was considerably younger than many of his contemporaries and, as a result, his name wasn't evoked as often as other freedom fighters of the era, like Dr. King or Rosa Parks. 
Hopefully, the release of John Lewis: Good Trouble, will rectify that and bring more awareness to his half-century-plus fight on our behalf.  
Arriving on demand and in select theaters on July 3 by Magnolia Pictures and Participant, the film (which is lovingly dedicated to Cummings) traces Lewis' career in politics and civil disorder from the 1960s until 2019 – including his efforts to help Stacey Abrams in her 2018 gubernatorial campaign in Georgia. 
The documentary is being promoted in concert with Make Good Trouble, a campaign created to provide resources to learn about voter rights and inspire ways to fight the voter suppression tactics that block marginalized communities from participating. In fact, in 2013, the U.S. Supreme Court severely crippled the Voting Rights Act of 1965 which Lewis played a key role in getting passed.  
By the end of 2019, Lewis underwent treatment for stage 4 pancreatic cancer. So, it's especially important that the 80-year-old get an abundance of much deserved accolades today – especially during a potential watershed moment in civil rights history. 
Here are four particularly  compelling reasons to check out the film, John Lewis: Good Trouble.
POVs From Your favorite progressive politicians

The filmmakers secured the who's-who of the Democratic Party to talk on-camera about Lewis and his impact on their careers. Hillary Clinton is on deck as are Rep. Ayanna Pressley, Rep. Alexandria Ocasio-Cortez, Rep. Ilhan Omar and Rep. Rashida Tliab otherwise known as "The Squad." They, among several others, speak quite passionately about the many ways in which John Lewis has inspired their professional fights for justice.

The civil rights movement wasn't all all that long ago

Far too many folks (especially younger; non-Black people) conflate the 20th century civil rights movement with slavery, believing that it's been a long time since it was completely legal to subjugate Black people on American soil. Sure, we can read about things like the "Bloody Sunday" march across the Edmund Pettus bridge in Selma, Ala. in contemporary history books. But Lewis was actually there, and he almost lost his life at the hands of police. My own father protested for the right to sit at the same lunch counter as white folks in Louisiana during the 1960s. Never forget that there are plenty of living Black Americans who, at one point in time, couldn't legally do things that you take for granted now.

The parallels between then and now are infuriating

John Lewis: Good Trouble is interspersed with footage from the aforementioned "Bloody Sunday" attacks and other incidences of police aggression. The footage is draped in a psychologically distancing grainy black and white, but it's sobering – and infuriating – all at once to see that there is virtually no real difference between news footage from a half-century ago and from two weeks ago. Attack dogs, fire hoses and batons have been replaced with tear gas, eye-gouging rubber bullets and well...batons. 

There's nothing like our elders

John Lewis: Good Trouble features accounts from numerous elders who have been around longer than even my own parents.There's a scene in which Lewis interacts with a group of septuagenarian Black women who recall how they picked cotton as children. The contours in their faces and the cracks in their voices that can only come from Black women of a certain age group and so it demands reverence. It made me miss my grandmothers. If she's still here, hug yours today and let all elders know that they are appreciated. 

Check out the trailer to John Lewis: Good Trouble below. 

Dustin J. Seibert is a native Detroiter living in Chicago. Miraculously, people have paid him to be aggressively light skinned via a computer keyboard for nearly two decades. He loves his own mama slightly more than he loves music and exercises every day only so his French fry intake doesn't catch up to him. Find him at wafflecolored.com.