Back To Black: Skai Jackson Rocks Black Hair Again After Internet Trolls Say Colorful Hair Doesn't Fit Her Complexion
People said her green and pink hair wasn't age appropriate.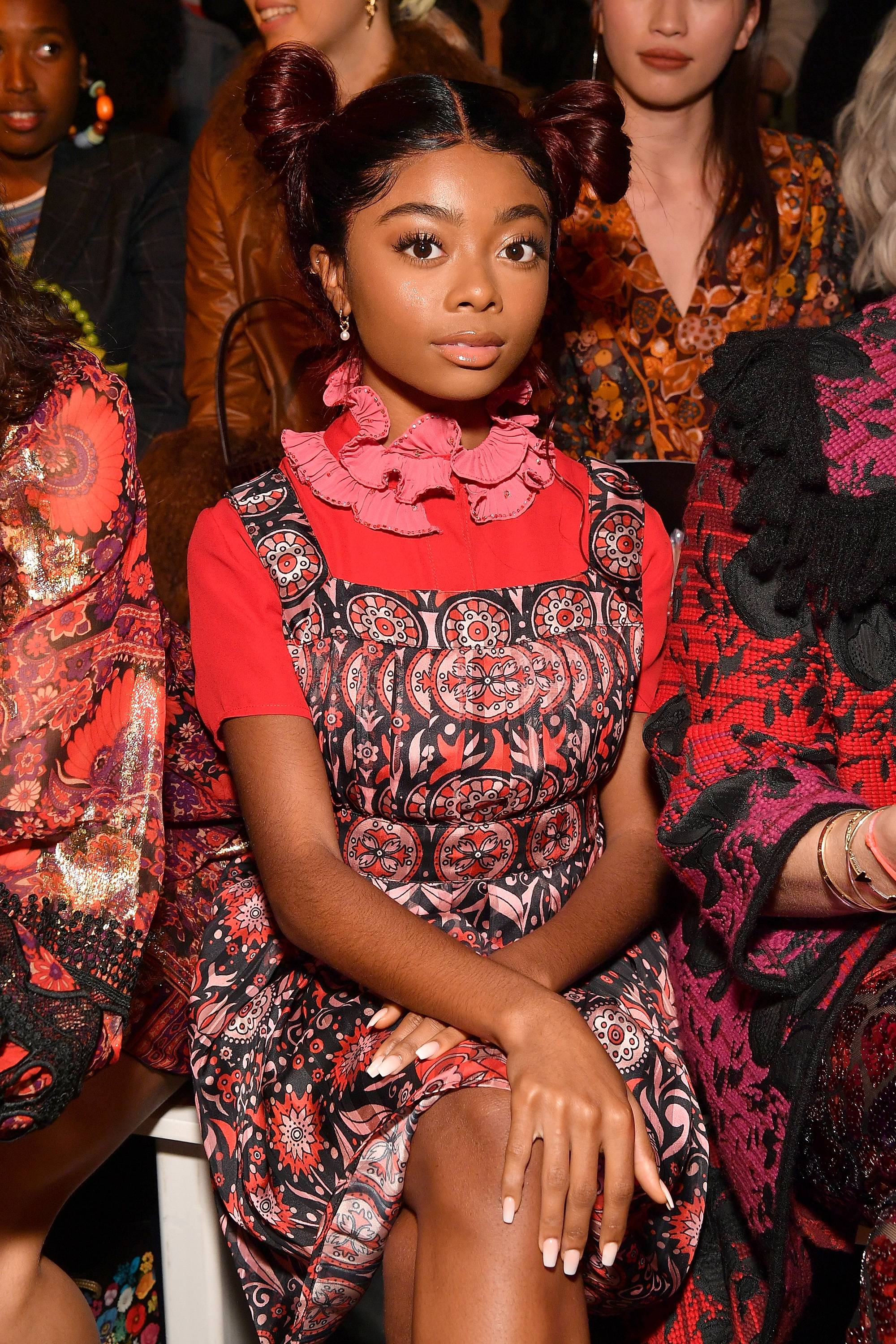 Skai Jackson has definitely caught people's eyes for being a mini-fashionista. At this year's New York Fashion Week, people weren't paying attention to her outfits and were more focused on her bold hair choices.
Skai made some bold moves during NYFW. As young as she is, she still held her own while serving up some amazing looks. Take a look at what she was rocking at NYFW below:
In Skai's first look, she stepped out at the Escada show looking pretty in pink, which matched the show's theme this year. Her pink hair is what initially set the internet trolls on fire! Check out how she clapped back at one of her haters:
Skai then attended the Business of Fashion 500 Gala where she switched it up with a forest green bob cut unit. The internet still had something to say about the actress trying to look "too grown."
After all the hate, Skai decided to play it safe with a black-and-burgundy unit, which was made up into space buns, at the Anna Sui show. But don't think she let the haters dim her light!
When asked about the criticism she received online, Skai told Teen Vogue that she was genuinely confused by all the comments.
"I was really surprised to see the comments on social media that were being said about my decision to try out a new hair color and style. Some people thought that pink hair was not age appropriate for me or that it didn't match my skin color."
She went on to say that she shouldn't be put in a box just because she's young and was on a Disney Channel show.
"I know it's hard to believe that I'm no longer the young 'Zuri' everyone has grown to love, which I truly appreciate, but like every young lady, I'm growing, I'm maturing and finding myself at 16 years old discovering the joys and pains of the world we live in."
As much hate as she received, Skai Jackson still got a whole lot of love for her daring looks. Do you all think she should've played it safe, or that young stars should be free to express their individuality as they grow? Let us know what you think in the comments!