You Can Watch Billie Holiday Perform at the Apollo, Hologram Style
It's happening later this year.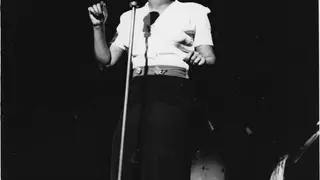 Deceased jazz legend Billie Holiday will return to the Apollo Theater later this year as a hologram. According to the New York Times, the Harlem theater has joined forces with Hologram USA to digitally resurrect Lady Day for a string of shows scheduled to debut around Thanksgiving. 
Bringing Holiday back to life is a part of the Apollo's daytime programming, which is centered around historic topics. The interactive shows have been approved by the late performer's estate and will feature recordings of Holiday's voice. "Billie is going to be able to talk about the history of the Apollo," said Apollo president Jonelle Procope. "She can take questions from the audience in an interesting way. She can sing some songs."  
The venue has entered into an exclusive two-year deal with Hologram USA and is the first national theater to offer on-going hologram shows. The Apollo envisions the technology as a way for dead musicians to not only return to the stage, but perform with up-and-comers. It's also an opportunity to recreate famous performances, such as James Brown's 1962 concert that spawned his Live at The Apollo album. 
"When people see this, they're going to understand the vast opportunities that we'll have to bring some of these performances to life," explained Procope. "We would never do anything that would compromise the integrity of the artists or the Apollo." 
Holiday, born Eleanora Fagan, made her Apollo debut at the age of 19 and performed at the venue more than two dozen times before her death in 1959. She was inducted into the Apollo Hall of Fame earlier this year, marking what would have been her 100th birthday. 
BET.com is your No. 1 source for Black celebrity news, photos, exclusive videos and all the latest in the world of hip hop and R&B music.
(Photo: Gilles Petard/Redferns)