Keke Palmer Covers Essence While Quvenzhané Wallis Looks Adorable for NYT Style Magazine
Both speak on how they remain grounded despite fame.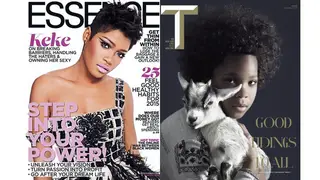 Our girls are lighting up the newsstands this month! Both Keke Palmer and Quvenzhané Wallis have landed January covers and both look amazing. Palmer is gorgeous and classy for Essence magazine in a pixie cut and bold makeup. Inside, the 21-year-old opens up about her nude photos being hacked, staying positive, taking breaks from social media and striving to push boundaries, something she did with her role as the first Black Cinderella on Broadway earlier this year.

"I know that the role of Cinderella is primarily for a Caucasian girl, but it didn't stop me from going in and it didn't stop them from seeing me," Palmer said. "There is a bit of intimidation. You think about Denzel, Viola Davis, and you think, only great people can do Broadway. That was the scariest thing about it, but I'm the type who thrives on pressure."
With a New Year just weeks away, Palmer also chatted about changes and transitions and how she found guidance in her parents and faith to get through a recent breakup.
"I realized that I'm a lot freer of a spirit. That was the beginning of me standing up for myself." She continues: "I would love to have somebody, but this is such a great time in my life, in my career. I really am liking myself."
Then you have Wallis, who's busy melting hearts while promoting her upcoming film as the beloved Annie. On her holiday cover for T, the New York Times Style Magazine, the 11-year-old actress cradles a baby goat and dons a Bonpoint overcoat that makes her look like she was born to live in the limelight. In her interview, Wallis shares what it's been like to be cast for a role typically played by a Caucasian actress and her rise to Hollywood fame. Even though the young star's clout has shot through the clouds since her debut in 2013's Beasts of the Southern Wild, a sense of normalcy remains in her life through interests like Roald Dahl books, Disney's Frozen, taking care of her two dogs and her friendships.
"Of course, when strangers see me they're star-struck because of who I am, but my friends take me as a friend because I'm their friend, not because I'm a movie star," she said. 
Click here to win a trip to the Super Bowl Gospel Celebration in Phoenix, AZ, plus 4 tickets to the Big Game.

BET.com always gives you the latest fashion and beauty trends, tips and news. We are committed to bringing you the best of Black lifestyle and celebrity culture.
(Photos from left: Essence Magazine, New York Times Style Magazine)