'It's Only One Side' Gunna Calls For Young Thug's Release
The Atlanta rapper expressed his thoughts on Instagram.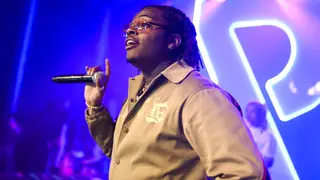 For the first time since being released from prison last month, Gunna posted on his Instagram account, and he's making his thoughts about the rest of his label known.
Under a solo photo of himself, possibly working on some new music, the  rapper captioned: "N****s acting like they switching to a side But it's only one side. #YslTheLabel #FreeThug & Yak GUNNA BACC!!!!!"
Gunna and Young Thug were among 28 individuals named in a 56-count indictment last May. Affiliates of Young Slime Life are accused of conspiring to violate Georgia's RICO Act and participating in a criminal gang. The defendants claim that YSL is a music label and not a gang.
According to the Atlanta Journal-Constitution, jury selection for the trial is expected to continue until the end of February with opening statements slated to take place shortly afterward.