Donald Trump Calls Army Specialist Who Saved Children In El Paso 'This Man'
The president also bizarrely said Glendon Oakley should be in movies.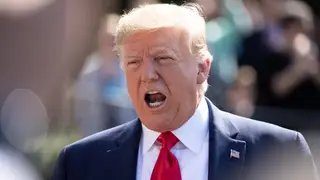 During his recent visit to the Texas city, the president encountered Oakley and reportedly had high praise for the man whose name escaped him. "And, by the way, here is a great hero. This man — the job he did," Trump said. "You all know who it is. Everybody — the whole world knows who you are now, right?"
"Yes, Mr. President," Oakley answered.  
Then, things got even more awkward. "So you'll be a movie star, the way you look," added Trump. "That'll be — hey, that'll be next. Who knows, right?"
"Yes, sir," Oakley replied.
The exchange hasn't surfaced in video form online but a woman in the room described what happened on Twitter.
Glendon Oakley reportedly ran toward a Dillard's store near where the shooting took place and took several unaccompanied children, who were playing in a play pen, to safety.
According to CNN, he and another man rescued around 13 kids. Oakley described the nightmare melee, revealing how his first priority was saving children, and not his own life. 
"I didn't even think. I just grabbed as many kids as I could and ran five stores down to the exit," he said. "We got there and ran into a whole batch of police pointing their guns at us. I wasn't focused on myself, and I wasn't focused on my surrounding... I was just focused on those kids."
Patrick Crusius has been identified as the gunman. In a manifesto he wrote prior to the shooting that killed 21 people and left dozens more injured, the 21-year-old claimed he was against "race mixing" and supported the idea of "send them back," which a crowd at a recent Trump rally chanted in regards to four U.S. Congresswomen of color.