Transgender Activist Janet Mock Blasts Piers Morgan for "Sensationalizing" Her Life
The talk show host angered Mock by referring to her as a boy.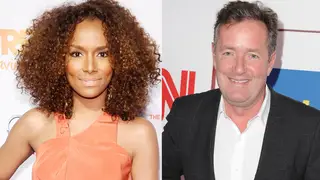 It's a showdown between Janet Mock and Piers Morgan. The transgender activist took to Twitter to blast the CNN host for making insensitive comments and "sensationalizing" Mock's life for the sake of ratings. 
Morgan referred to Mock as having "been a man" although she has never identified as such, and posed the question "How would you feel if you found out the woman you are dating was formerly a man?" on Twitter. Mock, who appeared on the show to discuss her book Redefining Realness, tweeted her distaste for Morgan's remarks. "@PiersMorganLive I was not 'formerly a man.' Pls stop sensationalizing my life and misgendering trans women. #redefiningrealness."
The issue quickly escalated when Morgan tweeted his own thoughts about Mock's commentary. "Very disappointed in @janetmock's tweets tonight. Deliberately, and falsely, fuelling some sense of me being 'transphobic'. Unpleasant," he said, adding, "I've never been subjected to the kind of nonsense that @janetmock and her supporters are accusing me of now...wish I'd never booked her."
He also blasted other transgender activists who joined Mock in her rage. "As for all the enraged transgender supporters, look at how STUPID you're being. I'm on your side, you dimwits."
In a surprising turn of events, Mock agreed to come back to Morgan's show on Wednesday evening for a "fruitful discussion" about transgender issues. Tweets Morgan, "So @janetmock has agreed to come back on my show LIVE tonight and we can debate our little disagreement to America."
Mock's second appearance on Piers Morgan Tonight was tense. Morgan grilled Mock for not saying she had a problem with the interview when she was on air, only to go on Twitter five days after the interview was recorded. The activist explained she was scared at the time, but stated, "I want this to be a learning and teaching moment for all of us." She added, "there's a lot of of misunderstanding."
The spat comes just weeks after Katie Couric's abrasive obsession with the bodies of trans women Laverne Cox and Carmen Carrera. Hopefully the incident between Mock and Morgan, like the one that went down with Cox and Couric, will help people get a better understanding of the issues faced by the transgender community.
BET.com is your #1 source for Black celebrity news, photos, exclusive videos and all the latest in the world of hip hop and R&B music.
Click here to subscribe to our newsletter.
(Photos from left:  Ilya S. Savenok/Getty Images, Angela Weiss/Getty Images)