Fall Fashion: Kimora Lee Simmons Drops New Baby Phat Collection
The launch is a nod to the early 2000s, featuring velour tracksuits, mini skirts, and the iconic Baby Phat cat logo.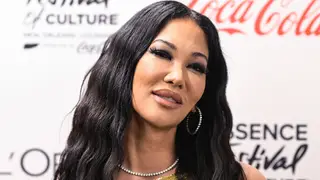 Baby Phat just unveiled a brand-new collection just in time for fall.
Kimora Lee Simmons –who founded the nostalgic line in the early 2000s– debuted its latest launch on Friday (September 29), which is a nod to the brand's original line and its iconic Baby Phat cat logo, as reported by PEOPLE. The launch will include throwback designs, including velour tracksuits, cargo mini skirts, and crop tops.
"I call it kind of a relaunch. I just think because of everything we've been through, throughout COVID and everything, it seems like your life is always a relaunch every time you give birth to a different iteration of, you know, your baby, which this is," she explained to the outlet.
The collection will also include their beloved denim jeans with a five-pocket design.
"My five pocket jean [is back]. I mean, we were the originator of that, with the kind of stretch that's just very different," she said. "These days there are a couple of [brands] that have that ... but that's our classic fit, that's my classic five-pocket jean and we have it in quite a few different washes and different styles."
Before the launch, Simmons considered consumer feedback to make the garments affordable. The founder listened and decided that all items range between $50 and $100.
"I pay attention to what the girls are saying when they're giving me [constructive] comments," she told the publication. "I listen to what they say, and a lot of people would, as I've been coming back, a lot of people were like, 'Oh, that's too expensive.'"
"I think that most of the girls, the family and the friends, they appreciate that because again, it's like post-pandemic prices. It's a little bit of a tough time for everybody, and people want to shop, and people want to spend and they want to buy things, they want to look nice."