Scott and Booker Take a Bipartisan LEAP to Increase Job Opportunities
Sens. Tim Scott and Cory Booker introduce a bill to boost apprenticeships.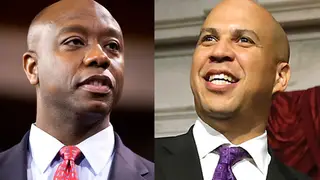 On most days, Sens. Tim Scott (R-South Carolina) and Cory Booker (D-New Jersey), the only two African-Americans serving in the upper chamber of Congress, cancel each other out. That's just how it goes when you're voting from opposite sides of the ideological aisle.
Despite their differences on most policies that hit the Senate floor, the pair has joined forces to create a bipartisan piece of legislation called the Leveraging and Energizing America's Apprenticeship Programs Act (LEAP). It's also the first bill that Booker has sponsored since he arrived at the Capitol.
The bill's primary goal is to increase the number of participants in registered apprenticeships in the U.S. In addition to arming workers with in-demand skills, it would help fill 4 million job vacancies across the nation, the two lawmakers say. They also believe that apprenticeships could make a significant difference to the 16 percent of young people aged 16-24, especially minorities and individuals who don't have college degrees.
"Our competitiveness and economic strength depend on our commitment to developing a 21st century workforce," Booker said.
In 2012, the U.S. had just 358,000 active registered apprenticeships, which is far less than the number offered European nations like Germany, where close to 50 percent of young people complete apprenticeship programs. Individuals in this country who complete registered apprenticeship programs reportedly earn $240,000 or more over the course of their careers than those who don't.
"In South Carolina we've been able to develop an effective apprenticeship program, one built on public-private partnerships for students along with a tax credit for job creators," said Scott. "Because of our balanced approach, we have seen international companies like Boeing and BMW, as well as many smaller businesses across the state, begin to use the program and provide new employment opportunities for individuals."
A key provision in the measure is a federal tax credit for businesses hiring new apprentices that are registered with the U.S. Labor Department or a state apprenticeship agency. To pay for the tax credit, Booker and Scott are proposing a ban on federal agencies printing publications that are available online, but includes an exemption for seniors, Medicare recipients and communities with limited Internet access.
Follow Joyce Jones on Twitter: @BETpolitichick.
BET Politics - Your source for the latest news, photos and videos illuminating key issues and personalities in African-American political life, plus commentary from some of our liveliest voices. Click here to subscribe to our newsletter.  
Get ready for the BET Experience, featuring Mary J. Blige, Maxwell, Jill Scott, A$AP Rocky, Rick Ross and many more. Click here for more details and info on how to purchase tickets.
(Photos from left: Chip Somodevilla/Getty Images,REUTERS/Joshua Roberts)