Ice Spice Embraces the Humor After Social Media Flames Her Scrambled Egg Recipe
The "Munch" emcee admitted she was new to the kitchen.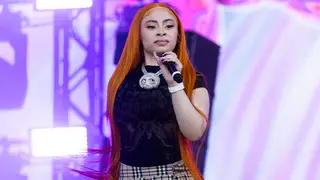 Rapper Ice Spice felt the heat from social media critics after they roasted her "tragic" scrambled egg recipe.
X (formerly known as Twitter) user @YSLONIKA captured the since-deleted post of the "Munch" rapper reluctantly preparing a mixture of eggs, raw onions, spinach, and tomatoes.
Throughout the cooking process, Spice expressed uncertainty and even admitted, "I don't know, girl." Nevertheless, she added pepper and cheese, acknowledging that it could turn out "really nasty" since she wasn't a cook and it was her first attempt. After tasting it, the Bronx native sounded less than thrilled about her latest culinary creation.
@YSLONIKA wrote, "Ice Spice making breakfast and it looks... interesting," before jokingly adding, "Well, at least she's eating her spinach." When Ice Spice saw the post, she playfully requested, "pls delete," accompanied by a string of playful emojis, including silly, sick, and dizzy faces.
Despite the criticism, the female emcee maintained a positive attitude and even responded with "lmfaooooo" to a comment that said, "got my stomach beatboxing."