Connecticut Trooper Charged With Manslaughter In Fatal Shooting Of Black Man After Car Chase
Mubarak Soulemane, who suffered from mental illness, posed no 'imminent danger' to officers, an official report says.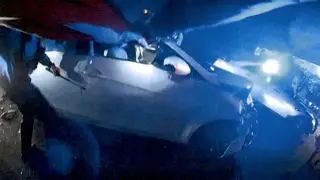 Following a two-year investigation, the Connecticut state trooper who fatally shot Mubarak Soulemane, a 19-year-old Black man, after a car chase was charged with first-degree manslaughter.
Trooper Brian North, who is white,turned himself in Tuesday (April 19) to the state inspector general and was later released on $50,000 bail, the Associated Press reports. North remains on paid administrative leave.
"Thank God Trooper Brian North was arrested. I now want to see him convicted and sent to jail," Soulemane's mother, Omo Mohammed, said in a statement. She has a pending wrongful death lawsuit against the officers at the scene.
After the Jan. 15, 2020, high-speed chase, Soulemane, who was diagnosed with schizophrenia,  sat in the stolen car, boxed in by police vehicles. North, claiming that he feared for his life and the safety of another officer because Soulemane was holding a knife, fired seven shots through the driver's side window.
State Inspector General Robert J. Devlin Jr. said Wednesday (April 20) that North was not justified in using deadly force, The New York Times reports.
"At the time Trooper North fired his weapon, neither he nor any other person was in imminent danger of serious injury or death from a knife attack at the hands of Soulemane. Further, any belief that persons were in such danger was not reasonable," the Times quoted Devlin's report.
Soulemane's family and civil rights leaders have said North should have de-escalated the situation instead of pulling the trigger, according to the AP. Soulemane, a community college student, was reportedly acting erratically that day, likely due to his mental illness.
The police union defended North Wednesday (April 20) over his "split-second decision to fire his weapon."
"No trooper ever intends to take the life of someone else; we don't have the desire to. And I don't think — we don't think that was the intent in this case," the Times quoted Connecticut State Police Union director Andrew Matthews.
North is expected to appear in state Superior Court on May 3.
"The family of Mubarak Soulemane is very happy that, after 2+ years, Trooper Brian North, who murdered Mubarak in West Haven in January 2020, may be brought to justice," the family's lawyer Mark Arons stated, adding that "it's a long road ahead. But this is a good day."