Whoopi Goldberg Receives Icon Award, Recalls Hurtful Fashion Moment From 30 Years Ago
She was honored at the Fashion Group International 39th annual Night of Stars gala.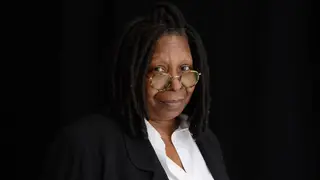 Whoopi Goldberg has come a long way with her relationship with fashion.
Nowadays, this living legend –who was once listed on worst-dressed lists– is rewriting the dos and don'ts of fashion while being celebrated simultaneously.
On Thursday night (October 19), the EGOT winner was honored with the American Icon award by Fashion Group International for their 39th annual Night of Stars gala in New York City. While on the red carpet, Goldberg reflected on an ensemble she wore 30 years ago and how that moment affected the trajectory of her history with fashion.
During an interview with Page Six Style, she recalled the outfit she wore to the 1993 Academy Awards that "everyone hated," which featured a lime green and purple jumpsuit accentuated with crystals and a matching jacket. She topped the look off with heels of the same pattern.
Looking back at that moment, she said the overwhelming criticism of her style that night made her feel insecure.
"It hurt my feelings, I'm not going to lie. It hurt my feelings," she told the outlet.
She added, "It kept me from dressing up for a very long time. You have to remember, in those days, they would say things and you'd think, 'Do I really look that ridiculous?'"
Deemed a fashion faux pas by some, the film and TV star said she was inspired by I Love Lucy's star, Lucille Ball.
"Lucy would always come out in these great ensembles. And I thought, I would like to wear that! And green is not a color I would normally wear; let me try it!" she noted.
When asked if she still stands by that fashion moment today, she said, "Absolutely."