The Public Education Woes of Detroit
The resignation of Doug Ross, an education turnaround executive from the Detroit Public Schools' administration, underscores the deep troubles with that city's schools.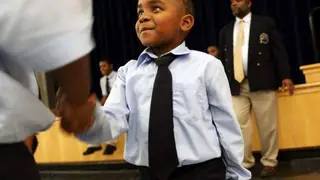 When Doug Ross came to the Detroit Public Schools 18 months ago, there was great anticipation that he would preside over a dramatic turnaround for a school system that has been ailing. And so his decision this week to leave his position has left many Detroiters surprised.
After all, Ross was a widely respected and successful operator of charter schools in Detroit and a former United States assistant secretary of labor before he was given the position of chief innovation officer for the school system. He said he is leaving to focus exclusively on the turnaround of urban high schools outside the Detroit Public Schools.
But, to many, his departure underscores the dramatic nature of the challenges that face a school system rocked by low performance levels.
In 2007, state officials reported a 68 percent graduation rate for students in Detroit's public schools. The following year, it was reported that the high school graduation rate was 24.9 percent. The situation has become so dire that Arne Duncan, the United States Secretary of Education, said he had concerns about the quality of education received by Detroit students.
The Detroit schools are managed in a complex governance structure that involves the state and locally elected school officials. In fact, the schools are not under the control of the city's government, but rather under the supervision of an emergency financial manager picked by Michigan Gov. Rick Snyder. That manager is Roy Roberts, a former executive with the General Motors Corporation, who was appointed in 2011.
While the Detroit Public Schools include some of the nation's most troubled schools, there are also some notable ones in the system. For example, Cass Technical High School, Renaissance High School and the Detroit School of Arts rank highly in the state of Michigan and nationally.
Nonetheless, the school system has a host of troubles from a mountainous deficit, low standardized test scores and crime in and around the schools themselves.
Last year, in a highly controversial move, a newly formed statewide district, the Education Achievement Authority, took over some of Detroit's lowest performing schools. Many elected officials opposed the move to place the 15 lowest performing schools under a separate management system, criticizing it as nothing more than a move to experiment with students' education.
"It's too soon to tell," said Detroit Mayor Dave Bing, when asked how effective the authority had been. "They're looking at Detroit as a test case," he said, in an interview with BET.com.
The new authority, he said, "is a necessary evil."
He explained that with the school statistics so dismal, any formula for improving performance would be welcomed.  
"I want to make sure that the kids who are not getting the kind of quality education that I think is needed for them to compete, get that education," Bing said. "Whether they can get it in the traditional Detroit Public Schools, in parochial schools or charter schools, or this Education Achievement Authority, it doesn't matter to me."
He added: "Our kids have to get educated if this city is going to come back and if our kids are going to be able to go out into the world and compete and get a good job."
BET National News - Keep up to date with breaking news stories from around the nation, including headlines from the hip hop and entertainment world. Click here to subscribe to our newsletter. 
(Photos: SUSAN TUSA/Detroit Free Press)