Serena Williams' Husband Responds To Drake Calling Him A 'Groupie'
The Toronto rapper mentioned Alexis Ohanian in his song 'Middle of the Ocean' from his new album 'Her Loss' with 21 Savage.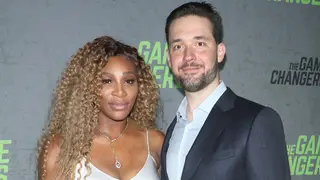 There's no doubt that Alexis Ohanian loves his wife Serena Williams and is one of her biggest supporters. So it's no surprise he'll defend their bond when it's… under attack?
The Reddit co-founder seemingly responded to Drake calling him a "groupie" on his new song "Middle of the Ocean."
"Sidebar, Serena, your husband a groupie / He claim we don't got a problem but / No, boo, it is like you comin' for sushi," the Toronto native raps on the song from his new album Her Loss with 21 Savage.
While Ohanian didn't specifically call out Drizzy in his tweet posted today (November 4), it's pretty clear he was referring to the bar.
"The reason I stay winning is because I'm relentless about being the absolute best at whatever I do — including being the best groupie for my wife & daughter," the entrepreneur tweeted alongside a photo of him and Williams' daughter Alexis Olympia in the stands during one of Williams' tennis matches.
The tennis legend replied to her husband's comment with smiling face and heart emojis.