Don't Come for Mr. Cosby: Keisha Knight Pulliam Claps Back at Amber Rose
And you know Muva had to respond ...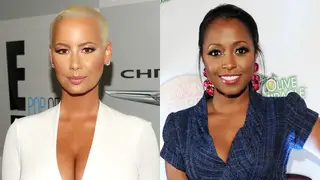 Ever since the Bill Cosby sexual assault scandal became a hot topic, most of the Cosby Show cast remained pretty neutral on the subject — until now. Thanks to a little poking from Amber Rose, Keshia Knight Pulliam, who played Rudy on the show, has come to the defense of her former TV dad.
While interviewing the model on her Kandidly Keshia podcast, things got a little heavy. The Ryan Cameron Morning Show on Atlanta's V-103 radio station played some of the audio of the exchange.
"Anything a male can do, we can do," Rose said. "I get very frustrated when I see guys call girls h**s or when people, like, defend Bill Cosby."
Wasting no time, Pulliam cut her off, adding, "I feel you, and everyone's entitled to their opinion, but we still live in a country where you're innocent until proven guilty... I understand everything that's happened, and me being a feminist... 'No means no' and I get that. But just so you know, I did work with him for a really long time, I love him dearly still. That isn't the man I know."
Rose then posted an image from her new emoji collection that clearly shows her stance on the Bill Cosby scandal.
Listen to the audio between the ladies below:
Recap the latest on the Cosby scandal in the BET Breaks video below:
BET.com is your No. 1 source for Black celebrity news, photos, exclusive videos and all the latest in the world of hip hop and R&B music.