Video Captures Man Holding Back His Girlfriend as a Giant Fight Erupts Over a Delayed Pizza Order
One witness said there about 10 people involved in the altercation.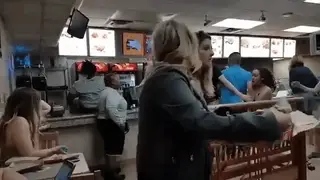 The late night, drunken fight at a pizza shop in Toronto which was recorded by an eyewitness is quickly becoming a trending topic of discussion. 
Witness Paul Michael, 23, told the Toronto Star the fight started at the Pizza Pizza on Queen St. E. and Broadview Avenue around 2 a.m. on July 9. Michael said the fight started when a woman complained her pizza order was late.  
"They didn't call her to tell her it was ready so in the middle of the Pizza Pizza, she started screaming how she wasn't satisfied," Michael told the Star.
"She was making this big scene and then someone else said something and one person just started grabbing another. The big thing just started happening when she jumped over the counter and started throwing the chips on the floor. So everything just started going crazy."
the situation escalated into a confusing group fight which prompted Michael to pull out his camera

Michael said he had no idea how the fight came to involve so many people

"Everyone started pushing each other," he told the Star. "I don't know how those other people really got involved. I just sat there and filmed the whole event."

Eventually, Toronto police were called at 3:04 a.m. and Const. Caroline de Kloet said one person was charged with public intoxication.

She said there were about 10 people involved in the fight, but there were no criminal charges filed.

"At first police weren't really sure what they were fighting about," de Kloet told the Star. "It's difficult to know when there's this many intoxicated people."

And the woman who originally complained eventually got her pizza

"She did get the pizza. She was yelling about it as she got it. She ended up throwing it on the floor," Michael said. 

Video of the fight quickly became a humorous subject on Twitter