Funkmaster Flex Has (A Lot) More to Say About Tupac
He says he's just speaking the truth.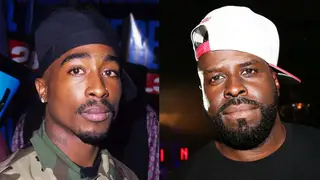 Funkmaster Flex wasn't lying when he tweeted earlier today, "We gonna talk about everything today!!!!"

While airing out all sorts of controversial opinions, namely that Tupac himself was to blame for being fatally shot, the New York radio host took to Twitter to further back up the reasoning behind his bold claims.
"The beef was PAC got robbed cause he did the wrong NY cats dirty," Flex began. "He was scared of them so he blamed Biggie! Those were PAC 'friends' PAC BEEN RUNNING WITH THEM AND KNEW THEY WHERE LOOKING FOR HIM WHICH IS WHY HE HAD THE PISTOL."
From there, Funk also added that he "caught amnesia on the n****s that was holding him down when he came to ny!," referring to the whole situation as a "classic case of out of town n***a wanting to be accepted and got in too deep and couldn't dig his way out."
He also claimed that these "friends" were the same group of people that were with him when he "caught the rape case."
As Flex powered through his lengthy rant on Twitter, he also sprinkled in that he's speaking the truth several times before also adding the fiery opinion, "2PAC IS A MADE UP SUPER HERO!"
Naturally, we can only assume Funkmaster Flex's mentions on Twitter are going to be in shambles for the rest of the week, and maybe even the rest of 2017.
The unsolved case of "Who shot Tupac?" has haunted hip-hop for over two decades despite several conspiracies and theories about the deadly evening in September 1996.
But as for Pac's prior non-fatal shooting in 1994 where he was attacked at Quad Recording Studios, the catalyst  behind the most infamous rivalry with Notorious B.I.G. ever known to hip-hop, New York's Funkmaster Flex claims to have the answer: it was Pac himself. 
Tuning in on his Instagram Live, the Hot 97 DJ veteran went on another one of his unexpected rants about the West Coast hip-hop legend, claiming that Pac went into panic mode and accidentally shot himself in the lobby of the recording studio.
"The f**king truth!" Flex asserted on the caption of a post from the live session. "[Biggie and Bad Boy Records] was never going to shoot him… he was supposed to run the jewels. He panicked [and] shot himself]… then went on a Biggie campaign."
The jewels Flex refers to are the ones that were robbed from Pac during the incident. After he'd realized that the perpetrators didn't snatch his Rolex watch, the "All Eyez on Me" rap star became suspicious that the robbery was an inside job orchestrated by Biggie, Diddy and hip-hop business executive Jimmy Henchman. Flex, however, insists that Pac indeed shot himself and has resentment toward him for initiating war with Big.
"Yes, I dislike [Tupac] for that. Yes, I feel a way because I know the truth. We all know the truth. Big never did nothing to him. It makes me sick to hear you stans talk and worship tha behavior. The truth f**king hurts. It's the truth! Half the stans in these comments are born after they died and grew up worshiping bullsh** stories and myths!"
Lil Cease, Big's cousin and Junior M.A.F.I.A. rap star whose rap career was heavily impacted from the late New York legend, was also captured on Flex's post backing his claims.
"[Tupac] resisted!" Cease commented during the live session. "From what I know… and I heard he reached for his joint and [popped himself first] by mistake."
Of course, it didn't take long before Flex gave his controversial statements the 140-character treatment and continued the rant on Twitter. Blasting Pac for starting the East Coast vs. West Coast beef off the strength of what Flex names a lie, he boldly adds that Pac was running  scared after the 1994 shooting.
"There would have been no east/west beef if Pac wouldn't [have] lied about who hit him up!" Flex tweeted. "And Biggie would still be here! Ask D-Rock! Pac knew who shot him and lied… he was scared! So he said Big set him up! That's why Biggie never talked about it! So all you Pac worshipers, stay worshiping! Ask Lil Cease!" 
See his theory on the 1994 shooting below and the tweets he posted in the aftermath below.