Rev. Raphael Warnock's Run For U.S. Senate Has Intense implications That Reach Beyond Georgia
As the pastor of Atlanta's Ebenezer Baptist Church prepares for a runoff, he's looking to first capitalize on the state's Democratic wave.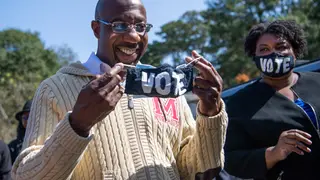 Georgia turned out to be the center stage of the 2020 election with a county-by-county battleground between Democrats and Republicans that didn't end with the battle between Donald Trump and Joe Biden. While the recount between those candidates is coming to a close on Thursday (Nov. 19), the decision over who will represent the state of Georgia in the U.S. Senate is still pending. 
On Election Day, Rev. Raphael Warnock was left just ahead of incumbent Sen. Kelly Loeffler,while challenger Jon Ossoff wound up in a razor thin margin with incumbent Sen. David Perdue, spurring runoff elections in both races scheduled for Jan. 5, 2021. The result could determine whether the Republicans or the Democrats control the senate.
A win for Warnock has intense implications. It means he will become the first Black Senator of the state, but if both he and Ossof win, it also means the senate will lean Democratic, allowing President-elect Joe Biden's agenda to at the very least be seriously considered. All at a time when the majority of American families  are waiting for economic relief, sustainable healthcare, and just a little bit of assurance that the government has their back.
Warnock says that the momentum from a record number of voters showing up to the polls has put both Ossoff and himself at the brink of a win and while he's not surprised the vote was so close, he's confident their party will be victorious next year.
"We had 21 people in this race and what's remarkable is that you had someone who came into this as a first time candidate," said Warnock, who also revealed in an interview with BET.com that his name was alphabetically second to last from the bottom of the list. "I finished first, beating her handily and I intend to do that again come January."
In the special election to succeed retiring Sen. Johnny Isakson, Warnock finished with 32.9 percent of the vote, compared with 25.9 percent at Loeffler. However, according to Georgia law, since neither of them got more than 50 percent, a runoff was automatically triggered.
Warnock, 51, is an unlikely candidate. He grew up in public housing in Savannah, Ga., and eventually graduated from Morehouse College. He later became an ordained minister after attending Union Theological Seminary, where he received his Masters of Divinity and Ph.D. In 2005, he became senior pastor of Atlanta's Ebenezer Baptist Church, where Rev. Martin Luther King Jr., once held the pulpit.
Warnock has said that Dr. King's Civil Rights legacy to serve the poor and marginalized has inspired him to follow in a similar path. Now that the election has been prolonged into next year, he believes his campaign is energized by the drive of Georgia voters and the groundswell of activation going into the runoff.  
"We saw record voter turnout during the June 9 primary," he said, noting that it topped the 2008 primary when former President Barack Obama ran. "We saw historic voter turnout again for the general election and I expect that we'll see record turnout again come January 5."
Even with his staunch presence in the state, Warnock hasn't been without his critics. Loeffler and other Republicans have launched a series of attack ads against Warnock. In one, she brings up his relationship with Rev. Jeremiah Wright, a one-time pastor to former President Barack Obama, who . officiated Obama's wedding and baptised his daughters. Wright was at the heart of the controversy during the 2008 campaign when an old sermon of his surfaced in which he said: "The government gives them [African Americans] the drugs, builds bigger prisons, passes a three-strike law and then wants us to sing 'God Bless America.' No, no, no, God d*mn America, that's in the Bible for killing innocent people. God damn America for treating our citizens as less than human. God d*mn America for as long as she acts like she is God and she is supreme."
"We predicted that this would happen," said Warnock. "It's sad but it's not surprising. Kelly Loeffler has nothing good to say about herself. She's been in office for 10 months. It's obvious that the people of Georgia are disappointed, so she's spending her time attacking me.
"I'm going to spend my time in this race focused on the people of Georgia that I've been encountering as I've made my way all across the state," he continued. "The people of this state are concerned that nobody in Washington is looking out for them as they navigate as best they can the thick fog of a global airborne disease that has sickened members of their families, taken some of their loved ones and devastated the economy."
RELATED: Warnock Campaign Slams Attack Ads From Georgia Sen. Kelly Loeffler As Senate Runoff Campaign Heats Up
Warnock has been a long time ally of Stacey Abrams, the former Georgia gubernatorial candidate, who after her 2018 loss, formed Fair Fight to advocate for voter rights. Abrams is credited with motivating a record 7.6 million people to get to the polls and cast their votes. That momentum, fueled by the Black vote in places like Fulton, Gwinnett, and DeKalb counties helped to win the state for Joe Biden. That same momentum, Warnock believes, can carry him to the finish line.
"Stacey Abrams is a powerful and effective leader here on the ground in Georgia," said Warnock. "She and I have worked together for years. When she started the New Georgia Project, she came to me early in that process and at her request I served as chairman of the board and then later chairman of the board.
"The New Georgia Project alone has registered 400,000 new voters in the state. Of course, she started Fair Fight after her governor's run. The groups on the ground will do the work they are supposed to do around voter protection and education. My job is to give the voters a good reason to show up."