Disrespectful? Deion Sanders's Daughter Shades Her Ex-Stepmom
The former NFL player's kid clearly has no love for Pilar.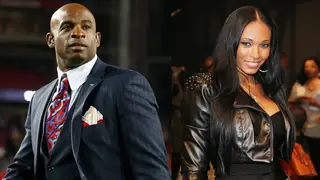 It's no secret that the divorce between former NFL player Deion Sanders and his ex-wife, Pilar Sanders, has been filled with drama. Court battles, break-ins and even allegations of abuse have popped up over the years, with Pilar recently losing custody of her children with the athlete.
Well, Sanders's daughter Deiondra Sanders made it clear whose side she's on with a shade-filled Instagram post that borders on disrespectful (or crosses the line entirely, depending on who you ask). Deiondra posted a throwback photo of her dad and Pilar's wedding day, in which she and her brother look less than pleased. The caption reads, "We knew it all along."
Deiondra is 24 and has a right to her opinion, but this certainly isn't going to help matters between her dad and his ex. Plus, she has younger half-siblings to worry about. This isn't the first time Deiondra has involved herself in her dad's mess, and it likely won't be the last. Hopefully she won't turn on Deion's current girlfriend Tracey Edmonds the same way if that relationship goes south.
Check the shade below:
Maybe the move will earn Deiondra a nomination at next year's Shade Awards. Check out who made the cut this year by watching below!
BET.com is your No. 1 source for Black celebrity news, photos, exclusive videos and all the latest in the world of hip hop and R&B music. 
(Photos from left: Christian Petersen/Getty Images, PNP/ WENN)