Who's The G.O.A.T. Rap Crew? Wu-Tang Clan vs Ruff Ryders | Round 3
In the tournament to decide the greatest rap crew of all time, this Round 3 battle is between the Wu-Tang and Ruff Ryders.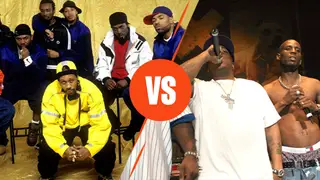 In recognition of hip hop's 50th anniversary, BET Digital, in partnership with Ambrosia For Heads, is celebrating the culture by hosting a bracket-style competition that allows you to determine hip hop's greatest crew.
Rather than having "experts" tell you who is the greatest of all time, this is your opportunity to collectively make that decision. After giving the opportunity to any and all fans to provide feedback on which crews should be included, 32 collectives from different regions, styles, and generations have been selected—all vying for that #1 spot. When the final battle is over and the last vote is cast, you will have determined who is your Greatest Rap Crew of All Time.  
In this celebration of hip hop and all of its talented crews, your vote decides the winner, so vote below.
Wu-Tang Clan vs Ruff Ryders | Round 3
Round 3 determines East Coast regional supremacy with an ultimate showdown. Wu-Tang Clan and the Ruff Ryders bookended the 1990s by using the power in numbers, multiple label situations, and decisive Black-owned leadership to conquer the music industry. In both crews, hardcore hip hop prevailed with rugged aesthetics. 
While the Wu used group albums to pivot to solo endeavors, the Double-R launched multiple careers before coming together in music videos, compilations, and remixes. During his rise to the top, DMX collaborated with Method Man and GZA, while these crews would further mingle on Ghostface Killah and Sheek Louch's "Wu Block" project. Rooted in Staten Island and Yonkers, these crews used an outsider's mentality to capture the spirit of New York City and the global rap scene—an excitement that endures today. Wu-Tang defeated Dreamville and Juice Crew in Rounds 1 and 2, respectively. In contrast, the Ruff Ryders defeated the Bad Boy Family and G-Unit to advance in the respective previous rounds. These squads are legendary, but only one can take the east coast title to contend against three other regions.
Wu-Tang Clan
(Defeated Dreamville in Round 1 and defeated Juice Crew in Round 2)
In the early 1990s, a band of rap outcasts united to take the sound of hip hop to a new frontier of ruggedness. Wu-Tang Clan is a nine-member core group that includes RZA, GZA, Method Man, Inspectah Deck, Ol' Dirty Bastard, Raekwon, Ghostface Killah, Masta Killa, and U-God. However, the larger Wu-Tang family tree features branches such as Cappadonna, Killah Priest, Shyheim, and other lyricists and producers. This unit has shaped culture through classic albums, indelible songs, and one of the most recognizable brand logos of the last 30 years. A bonafide classic group debut in 1993, "Enter The Wu-Tang (36 Chambers)," laid the foundation for Wu to win without chasing radio or trends.
Ruff Ryders

(Defeated Bad Boy Family in Round 1 and defeated G-Unit in Round 2)
Rap fans could hear the Ruff Ryders coming, just like the motorcycles, ATVs, and dirt bikes associated with their videos. After years on the grind, DMX gave the crew a 1998 takeover with not one but two #1 albums, including a name-brand hit in "Ruff Ryder's Anthem" and its squad-showcasing remix. Rugged raps, bike stunts, and growling at the camera created the perfect aesthetic for a hard-nosed rap crew from Yonkers.
These MCs are unapologetic, abrasive, and almost always backed by top-quality production. This collective yielded a superstar producer and personality in Swizz Beatz, nephew to the crew's OG's, Joaquin "Waah," Darin "Dee," and Chivon Dean. Drag-On's debut went gold, while the MC joined DMX on screen in two films. While most crews see even their core challenged by time and fame, the Ruff Ryders exude the loyalty reserved for family.
---
EDITOR's NOTE: Register for the sweepstakes for a chance to win the grand prize of (2) two tickets to the 2023 BET Awards, (2) two round-trip airline tickets, and a 2-night hotel stay on June 25. Up your chances to win by voting weekly.
NO PURCHASE NECESSARY TO ENTER OR WIN. VOID OUTSIDE OF THE 50 U.S. & D.C. AND WHERE PROHIBITED BY LAW. Open to legal residents of the 50 U.S. & D.C. who are 18 years of age or older at the time of entry. Ends at 12:00 p.m. ET on June 9, 2023. Official Rules: bet.com/grcoat-official-rules. Sponsor: Black Entertainment Television.