Rep. John Lewis Shines at Comic-Con
Rep. John Lewis promotes his civil rights graphic novel at Comic-Con.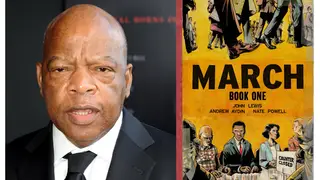 A civil rights legend likely bottoms the list of people one expects to see at Comic-Con, the annual convention to celebrate comics, graphic novels, anime, manga and other pop culture products. But Georgia Rep. John Lewis was one of this year's biggest stars at Comic-Con International: San Diego over the weekend.
Fans lined up to hear him speak and autograph copies of March, book one in a trilogy chronicling his experience fighting for civil and voting rights, from Bloody Sunday to his career in Congress, Roll Call reports. One woman told her son that Lewis, who penned the graphic novel with aide Andrew Aydin, is a "real-life superhero."
"We have told the story in many ways to many different audiences. But this is an attempt to reach hundreds, thousands and millions of young people. And people not so young," Lewis told WXIA-TV en route to San Diego. "It's not just words. It's illustrations. It's drawings. It's action. It's drama. And we hope that young people will be able, by reading this book, will be able to feel, to almost taste what happened."
As soon as he appeared, according to Roll Call, Lewis was peppered with questions about the Supreme Court's ruling on the Voting Rights Act and the movement to seek justice for slain teen Trayvon Martin. In his speech he regaled the audience with childhood stories, and "horrified them with stomach-turning accounts of the evil bigots do."
March hits bookstores in August.
BET National News - Keep up to date with breaking news stories from around the nation, including headlines from the hip hop and entertainment world. Click here to subscribe to our newsletter.
(Photos from left: Chris McKay/WireImage, Top Shelf Productions)