Cardi B Is Apologizing For These Offensive Lyrics After Backlash From Fans
Were fans too sensitive or justified on this one?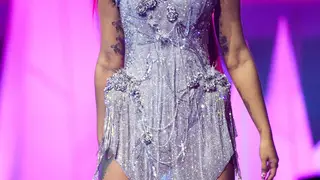 The release of the free-spirited, four-woman "Girls" song featuring Cardi B, Bebe Rexha, Charlie XCX and Rita Ora was met with a bit of push back from some concerned individuals of the LGBTQ community.
Beginning with singer Hayley Kiyoko, the song was emphasized for what she deems harmful lyrics that gave her "a knot in her stomach" after listening. The track lends verses to each of the four women flaunting their intimate thoughts about being with other women, as the chorus repeats, "Sometimes, I just wanna kiss girls, girls, girls, red wine, I just wanna kiss girls, girls, girls."
California-bred R&B songstress Kehlani shared Kiyoko's sentiments as well, assuring that her thoughts on the harmful implications in the song were not meant to take anything away from the artists, but the message of the record. Per usual industry controversy, the rhetoric opened up a space for discussion surrounding LGBTQ topics such as fethishization and queer baiting. It also opened up some of the ladies on the song, including Cardi and Rita themselves, who dedicated their respective apologies to any offended fans that's definitely worth a read.
Kiyoko pointed out that the track was tone-deaf and was far more detrimental to an already marginalized community than some might realize

Kehlani also chimed in on the problematic lyricism

Fortunately, Rita took their thoughts into consideration with open arms, expressing her apologies and hoping for further discussion into such a pressing subject matter

Cardi B sent her apology directly to the fans via Twitter, reminding that she's still growing and still learning about issues such as the ones presented from concerned fans' dialogue

Which, in turn, sparked even more conversations around 'Girls'