2 Chainz Announces A Collaborative Album With Lil Wayne
The rapper also chats with BET about his hosting gig for Amazon Music Live and more.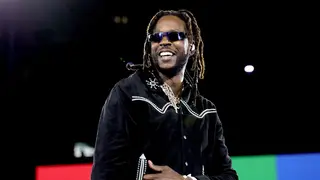 With over 20 years in this business, 9 award wins, a name change, and 2 platinum albums, 2 Chainz has solidified himself as a top-notch player in hip-hop. Starting out in 1997 in the super group Playaz Circle to branching off on his own, the artist is no stranger to hard work and determination.
Another notch you can add under his belt is host, as the 46-year-old will be hosting Amazon Music Live for the second time in a row with chart-topping artists taking center stage every Thursday on Prime Video after Thursday Night Football. The "No Lie" rapper will interview artists and will premiere with a highly anticipated performance from Ed Sheeran. Other artists set to perform are Lil Durk, Latin sensation Feid, and more.
In a colorful conversation with BET.com, the living legend chats about pivoting musically, what he's most proud of about today's hip-hop, his favorite part about hosting Amazon Music Live, and his upcoming collaboration album with Lil Wayne.
BET.com: Hosting Amazon Music Live for a second go-round — what did you learn as a host the first, and how do you plan to elevate this time?
2 Chainz: Honestly, I didn't learn anything else as a host due to hosting opportunities in the past. I am grateful to widen my fanbase and put me in living rooms I may not have been a part of. With Thursday Night Football being such a staple and a celebratory event, especially in Middle America, it's great to be a part of people transitioning from the two shows. I also have a relationship with a lot of the acts who are coming on so it makes things seamless.
BET.com: What is the best thing about the concert series?
2 Chainz: I enjoy watching the artists performing because Amazon Music is a large platform, and it's a unique platform – this is where artists bring their A-game, whether with their live band, the outfits they decide to wear, etc. It's a place where you're going to get a great show.
BET.com: Which artist would you love to see come and rock out with you during Amazon Music Live?
2 Chainz: There are so many amazing acts to choose from, just to say one. I will say an act that I've seen in the past that I enjoy – I've seen Beyoncé twice, and one of the times was in Atlanta. I was able to see her with my wife and it was great because it was a bit more intimate. Shout out to her because she's a Virgo like me. I also saw Drake on his tour with 21 Savage and I truly enjoyed it – I'm anticipating Travis Scott, so all of the names I feel are great performers live, so if they get to Amazon, that would be cool.
BET.com: Hip-Hop 50 continues to be celebrated after its 50th birthday — what are your thoughts on all of the celebrations and moments surrounding the booming genre thus far?
2 Chainz: 50 years is unbelievable because I've been doing this for over 10 years now – who knew I could be a part of this legacy? Looking at the new talent and trajectory, I can see it continuing for another 50 years. We're becoming a genre where even if the act ages, the music is becoming like wine. They are doing the same tours and are still giving us great, quality shows. There's so much sustainability, and I'm honored to be a part of hip-hop.
BET.com: If I were to go on your phone right now and look at your playlist, who would I find in there?
2 Chainz: You would find Larry June in there, Brent Faiyaz, Primo Rice – he raps with Larry June actually. I also don't like to listen to rap all day. I like to sing along to records, so you also may find Bryson Tiller in there – there's some heat in there.
BET.com: You're a staple in hip-hop and while fans know you as 2 Chainz, day one fans also remember you as Tity Boy. What was the biggest challenge when revamping and the biggest takeaway for you?
2 Chainz: My biggest takeaway was being fearless to see what can happen next, leaving one situation to another while also applying business strategies to my career. From rebranding the name, which a Fortune 500 company might do – I've implemented some of those strategies based on people who inspire me. I have a lot of relationships with people outside of hip-hop and to see how successful they are, I've continued to implement some of those strategies.
BET.com: Initially, you signed to Ludacris and left to advance your career. You've thrived so well. What does Ludacris say to you now after seeing your success?
2 Chainz: I'm sure he's proud of me and has nothing bad to say. We're two grown, successful men, so it's all love. I wasn't nervous – I was very confident about it because while sometimes we're afraid to see what it is, I just knew things could become something else. I didn't know I would take it this far, but am I surprised that I'm sitting right here, talking to you, and hosting Amazon Music Live? Nope. I'm about to drop a project with Lil Wayne and have tryouts for my  G League team, another anniversary for a restaurant I've been owning for eight years, so I'm not surprised.
BET.com: A collab with Wayne? What made you both want to collaborate together now and when can we expect that to drop?
2 Chainz: I consider Wayne my brother and love working with him. The album is expected to drop before the year ends, and Amazon Music will support the project.
BET.com: You mentioned "Dope Don't Sell" Itself would be your final trap album — what ultimately made you want to leave this genre of music alone
2 Chainz: I can do trap songs in my sleep, but I'm slowly phasing out of that because I didn't have to sell or be a part of that lifestyle in over a decade, so when you hear my records, you can hear me using past tense language to describe the things I have been to and places I've been, I always felt I had bars, and I can rap so we're going to switch up the tempo and the musical content. But trap is in me and my genetic makeup, so I can't escape it.
You can watch 2 Chainz cover Amazon Music Live beginning on Thursday, September 21st and every Thursday afterwards on Prime Video immediately after Thursday Night Football.
*This interview has been edited for length and clarity
---
Ty Cole is a New York-based entertainment reporter and writer for BET.com who covers all things pop culture, entertainment, and lifestyle. Follow his latest musings on Twitter @IamTyCole.