Khloé Kardashian and Jordan Craig Share Sweet Photos of Their and Tristan Thompson's Kids First Day of School
From first-graders to freshmen, see how these celebs are dealing with back to school.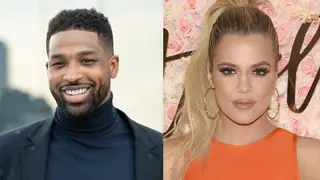 The summer is officially coming to an end, and that means school is back in session. And for our favorite celebrities, their kiddos are gearing up for the new academic year. So whether they are stepping foot on campus as pre-schoolers or entering the very first day on college grounds as a freshman, they are all getting ready to embark on a year of unforgettable memories that will last a lifetime.
Here are some of our favorite celebrity kids as they head off to class.
Prince Oliver

Jordan Craig –who shares a son with her ex Tristan Thompson–  had a cute moment with their little guy on day one of first grade. Their baby boy rocked a matching green backpack and lunch kit on this big day.

Pilar McKinley

The cute offspring between Porsha Williams and ex-Dennis McKinley started her big day with a bang as her parents accompanied her to school. She rocked the cutest set of braids with beads on the ends and a purple and white outfit.

Sophia Strahan

The NFL champ turned morning news co-host dropped his daughter off on the first day of her freshman year at the prestigious Duke University in Durham, North NC. "Can't believe how time has flown by and I'm so proud of her," said the proud dad.

Heaven Hart

Kevin Hart dropped his eldest daughter, 18-year-old Heaven, off for her first year of college. The comedian shared moments from her exciting day.

Grace Bryant

Gizelle and Jamal Bryant's daughter will follow in her family's footsteps by attending an HBCU. And for her, Florida A&M is where she will pursue a degree in business management.

True Thompson

Khloe Kardashian's five-year-old baby girl, whom she shares with ex Tristan Thompson, is set for her first day of Kindergarten. The mom-and-daughter duo celebrated the milestone by taking cute snaps in front of a balloon arch.