Former 'Sweetie Pie's' Star Tim Norman Sentenced In Murder-For-Hire Killing Of Nephew
'It was a cold-blooded' murder, the sentencing judge said.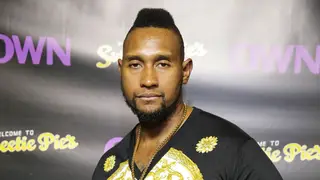 A federal judge on Thursday (March 2) sentenced former reality TV star James "Tim" Norman to two life sentences in the murder-for-hire killing of his nephew, Andre Montgomery Jr., in a scheme to collect on life insurance policies.
After more than 17 hours of deliberations, the jury on Sept. 16 issued a guilty verdict on all charges against Norman, including conspiracy to commit murder-for-hire, murder-for-hire resulting in death and conspiracy to commit mail and wire fraud.
Norman and Montgomery starred in Welcome to Sweetie Pie's, a long-running OWN reality show about the popular soul-food business in St. Louis, co-owned with Norman's mother, Robbie Montgomery, who is Andre's grandmother.
Montgomery, 21, was killed outside of a St. Louis apartment complex in 2016. Prosecutors said Norman took out several life insurance policies on his nephew totaling over $450,000 and attempted to cash in the policies just days after his death.
At the trial, witnesses testified that Norman hired Travell Anthony Hill,for $5,000 to kill his nephew and paid $10,000 to an exotic dancer, Terica Ellis, to lure Montgomery to his death.
Norman declined to make remarks on his behalf at the sentence hearing. But he had plenty to say in a recent social media post.
"I'm still in disbelief. The feds knew 100% I did not do those insurance policies. But the jury didn't get to hear that," he said in a Feb. 23 Instagram post. "And not one person got on the stand and said that I told them to hurt my nephew. They destroyed my name and image so you guys wouldn't search for the truth."
At the sentence hearing, Norman's lawyers submitted several letters from family and friends asking the judge for leniency.
"I am writing to you to ask for mercy for my son. As a mother, I am devastated that my son has been accused and convicted of the crimes," Robbie Montgomery wrote, according to The Post-Dispatch. "I don't know whether Tim did what he was accused and convicted of. He is still the baby that I bore, and I love him as every mother involved loves their child."