Condom Use Higher Among Blacks Than Other Groups, But Not Enough to Beat HIV
Indiana University National Sex Study finds that condom use among Blacks is higher than other ethnic groups, but finds disparities in Black men and women as they age.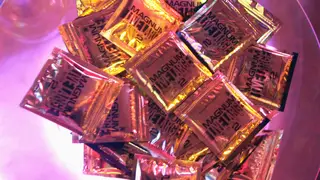 The Indiana University National Sex Study is the latest national survey to refute the theory that high HIV rates among African-Americans result from riskier behavior. This study shows that, in fact, African-Americans are more likely than other ethnic groups to use condoms, as well as the most likely to be tested for HIV. And condom-use rates among Black teenagers were the highest of any demographic — an incredible 92 percent for males and 100 percent for females the last time they engaged in sex.
"I like to think some of this is demonstrative of a public health success," says Michael Reece, Ph.D., M.P.H., the director of the Indiana University Center for Sexual Health Promotion, and an author of the study. "After a decade of education, youth are getting the message. And people are finding condoms at diverse venues. Maybe we've had a breakthrough in public health."
A Dramatic Difference in Condom Use

After a promising start, though, condom use sharply declines in all racial groups after age 18.
After adolescence, a dramatic difference exists between what Black men and women report about their condom use. For example, Black women ages 18 to 24 tell researchers that 55.3 percent of their sexual encounters involve condoms. Black men in that same age range report that they use condoms in only 20.5 percent of their sexual encounters.
By the time Black women reach their 40s, less than 25 percent of their sexual encounters include condoms. "Most women use more effective methods of contraception when they get in more consistent relationships," Dr. Woodward notes. The proportion of women using condoms then ticks upward in the 50s (32.2 percent) and 60s (28.9 percent).
Black men report that their condom use rises until age 50, with condoms involved in 41.3 percent of sexual encounters among Black men ages 40 to 49. The trend is opposite among white men, whose condom use decreases as they age.
What accounts for the wide variation in men's and women's reported condom use?
Data about numbers of sexual partners were not collected by his survey, but Dr. Reece says, "Part of this is perhaps explainable by young men having more partners overall than women." And the health-care establishment traditionally serves young women better than young men.
"You see higher rates of STI [sexually transmitted infection] testing among young women compared to young men, and they start to receive routine gynecological care when men don't really have any regular screenings," Dr. Reece says. "Health providers encourage safer-sex practices among women when they start these exams, which is earlier than when men start to receive the same messages."
Dr. Woodward also suspects that some of the differences can be attributed to men's non-monogamy. "If you ask men if they use condoms with all partners, they don't use them with steady girlfriends," she says.
Perhaps another elephant is in the room: The study didn't ask the race of the participants' sexual partners.
Good, But Not Good Enough

No matter how you slice it, even the highest condom rates aren't high enough for a community entrenched in an HIV/AIDS epidemic.
Dr. Reece observes that while young Black men's 20.5 percent rate of reported condom use "may be considered a public health success, it means that four out of five aren't using condoms. That's a lot of unprotected intercourse."
Though research shows that Blacks don't engage in riskier behavior than other demographic groups, if you live in a community where more people have HIV, you're more likely to have sex — or share a needle — with someone who has the virus than is someone who lives where few people are HIV-positive. This is just one reason that experts expect one in 22 Black Americans to get HIV during their lifetime.
Fortunately, "more attention is being paid to certain zip codes," says Kenyon Farrow, executive director of Queers for Economic Justice. "We have to think about what community-level work can further reduce vulnerability."
Community groups and researchers have been focusing their efforts on high-risk communities of color for more than a decade. Farrow cites GMHC's New York City "I Love My Boo" campaign, which targets MSM of color to help a high-risk demographic take ownership of staying healthy. And in September, the Centers for Disease Control and Prevention funded a pilot program to provide $30 million for testing and evaluation of those hardest hit by HIV, including Black Americans.
A. Toni Young, founder and executive director of the Washington, D.C.-based Community Education Group, stresses making it easy for people to wear condoms and know why they're doing it. "It's about consistency," says Young, whose peer-to-peer prevention organization distributes 250,000 to 300,000 condoms annually in community centers, barber shops, day care centers and other community hubs nationwide. "And we as providers have to be consistent. What happens when a person goes to reach for the condoms and the receptacle's empty? That person may be more likely to engage in unprotected sex."
BET Health News — We go beyond the music and entertainment world to bring you important medical information and health-related tips of special relevance to Blacks in the U.S. and around the world.
(Photo: Alexander Tamargo/GettyImages)