Denzel and Pauletta Washington's Relationship Timeline
The couple first met in 1977 and have been married for 40 years.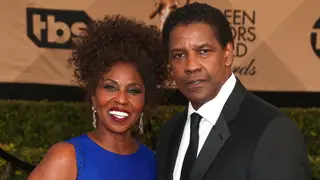 On June 25th, 1983, they said, "I do"!
Oscar-winning Hollywood icon Denzel Washington and his wife Pauletta are celebrating 40 years of marriage. Besides being a critically-acclaimed actor, producer, and director, Denzel has one of the longest-standing marriages in the black entertainment industry, showing the true meaning of "black love."
Here is a timeline of their relationship.
The pair first crossed-paths in 1977 on the set of a TV-movie, Wilma, the actor said in a Kelly and Ryan interview. About a year later, they began their journey to love.
1990

Fun fact: Pauletta turned down his proposal twice! Or three times? The two jokingly speculated how many times he got on one knee in an interview with Access Hollywood. The couple can be seen here attending the 47th Annual Golden Globe Awards on January 20, 1990.

1991

In 1984, the couple had their first child, John David, followed by a daughter, Katia, in 1987. At the 63rd Annual Academy Awards in 1991, Pauletta was pregnant with twins Olivia and Malcolm, whom she would have shortly after.

1995

The couple felt that after 12 years of marriage, it was time to renew their vows. Activist and archbishop Desmond Tutu officiated their intimate ceremony during their trip to South Africa.

1996

In 1996 the actor had two hot movies, "Courage Under Fire" and "The Preacher's Wife." The couple was seen at events that ranged from red carpets and movie premieres to black-tie galas and award shows. 

2002

In 2002, Denzel and Pauletta celebrated his Academy Award for "Best Actor in a Leading Role" for his work in Training Day together.

2005

On behalf of herself and Denzel, Pauletta accepted the Humanitarian Award at the 2005 BET Awards, a big win for the couple who have devoted their lives to public service and philanthropy.

2010

The couple enjoys a beautiful July beach vacation in Portofino, Italy.

2010

In the fall of 2010, the couple made an appearance for Denzel's role in the box office-breaking action movie "Unstoppable" at the premiere.

2016

In January, 2016 Denzel and Pauletta stand together as the actor accepts the Cecil B. Demille Award during the 73rd Annual Golden Globe Awards. 

2019

In 2019, the couple and their family proudly celebrated Denzel's "Lifetime Achievement" award at the AFI Film Awards.

2022

To this day, the couple remains 'unstoppable', consistently sharing their life filled with love and happiness with the world. In an interview with PEOPLE.com, Denzel shared his secret to a happy marriage: "I do what I'm told. I keep my mouth shut," joked the star.