Seal's Timeless Talent: A Musical Journey of Smoothness
The singer's tour stop in Los Angeles proves he is still one of music's best voices.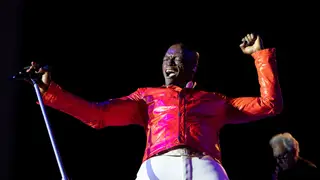 Throughout the decades, music has been blessed with exceptional voices that captivate audiences and stand the test of time. One such artist is the legendary Seal, whose velvety smooth vocals have enchanted listeners for over three decades. From his debut in the late 1980s to his continued success today, Seal has proven that true talent knows no bounds. And at 60 years old, the British crooner is still selling out crowds, and during his Wednesday night show at Los Angeles' Greek Theater, those in attendance were mesmerized by his soulful voice and audience interaction.
Born Seal Henry Olusegun Olumide Adeola Samuel, Seal embarked on his music career at a young age. Raised in London, England, his passion for music led him to explore various genres and develop a unique vocal style that would set him apart. It was in the late 1980s when Seal's talent caught the attention of legendary music producer Trevor Horn, who recognized the immense potential in his voice.
In 1990, Seal released his self-titled debut album, featuring the soulful hit "Crazy." The song's undeniable charm and Seal's remarkable vocal range and dynamic delivery propelled him into the limelight. His ability to seamlessly blend soul, pop, and R&B elements garnered critical acclaim and laid the foundation for a long and prosperous career.
During last night's show, surprisingly, Seal opened his show with "Crazy," which I almost missed because of a run to the restroom. As I returned to my seat, I was shocked that his voice was so clear and smooth. That mic was ON!
Despite the natural changes that come with age, his vocals have remained intact and matured like fine wine. And the Greek Theater was the perfect place to showcase it. Listening to Seal sing was like sitting in your living room, piping music through your sound system. There are not enough ways to describe it, buttery comes to mind.
Throughout his career, Seal has effortlessly blended all genres through his music and has amassed fans from all walks of life. During one poignant moment, Seal asked the audience how we were doing, and he approached one woman in the audience, who started by saying she was his biggest fan and that she saw him perform 20 years ago. But that didn't suffice. He wanted to know how she was REALLY doing. And with an honest reply, she said she was stressed because of family issues and the recent death of her mother. It was a genuinely touching moment.
To close out the show, Seal performed one of his most famous songs, "A Kiss From a Rose," as he took time to immerse himself in the crowd, I stood mesmerized. He magically appeared within inches of me, standing on chairs, while two men below him were probably praying he didn't fall. Just hearing and seeing him up close and personal was amazing. I couldn't help but laugh at my friend, who said, "He's right there. You better get close to him!"
With a set of a little under two hours, Seal proved that his music is timeless, and after 33 years, his voice still keeps audiences in awe.