Social Media Learns DeRay Davis & Lauren London Were Set to Star in 'Snowfall' as Jerome & Louie
The crime series recently came to a stellar ending after six seasons.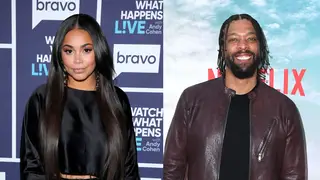 FX's drew the final curtain on John Singleton's underdog crime drama Snowfall last week, finally revealing what was to come of Franklin Saint (Damson Idris), a young California man turned drug king during the crack epidemic, his family and a 70 million dollar empire after an impressive six-season run.
Amongst other reveals, came a resurfaced post about Singleton's initial plans to have comedian DeRay Davis and actress Lauren London take on the roles of Jerome Saint and Aunt Louie who were ultimately portrayed by Ami Joseph and Angela Lewis, respectively.
Singleton shared the photo of Davis and London sitting on a couch on what appeared to be a set nearly two years before the show's debut on July 5, 2017. The late filmmaker captioned the snap, "Jerome and Louie... Snowfall !!!" before adding, "Yall ain't knowing! But You will !!! #deraydavis #laurenlondon #snowfall."
The director noted that "Making legends is what I do!!!" As viewers know, that dynamic duo did not get the opportunity to have a role on Franklin's team. However, Davis' character, Peaches, would eventually run off with $5 million of his money and ultimately met his demise during the series finale.
Reportedly, the original cast also penned Jill Scott as Cissy Saint, played by actress Michael Hyatt and Queen Sugar's Kofi Siriboe as Kevin Hamilton, portrayed by Malcolm Mays.