Luke Campbell Rips Lil Wayne for Trashing Miami
Uncle Luke calls on Rick Ross to check Weezy for disrespecting hometown.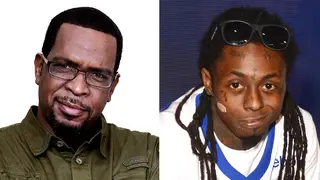 There's at least one Miami resident who's not going to stand for Lil Wayne's recent antics. Luther "Uncle Luke" Campbell, the godfather of Miami rap, is not taking kindly to Weezy's anti-Miami stance.
In a recent editorial for the Miami New Times Luke called for the city's residents, radio stations and local MCs to stand up against Wayne. He claims the New Orleans rapper is making the city "his b----."
Wayne made headlines this weekend after an epic rant aimed at the Miami Heat and the NBA during the league's All-Star weekend. The "No Worries" rap star took the stage at a Houston nightclub and encouraged the audience to say "F— the Miami Heat," "F--- the NBA." Weezy even went as far as to tell the crowd he had a past sexual relationship with the wife of Heat forward Chris Bosh.
All of the rapper's anger allegedly stems from the NBA banning him from events at the behest of the Miami organization. An NBA official, Mark Broussard, the senior director of basketball communications, has denied Wayne's claim saying there is "no truth at all" to the accusation.
Campbell used his Luke's Gospel column to explain that "Lil Wayne treats Miami like his b---- because people let him."
Uncle Luke ripped the Heat organization for not standing up to Wayne publicly, as well as local nightclubs and radio stations that cater to his desires before local legends and upcoming artists. Miami hip hop's current stars were also on the chopping block as Luke wondered "what Rick Ross, DJ Khaled, and all these so-called 305 rappers who hang with Lil Wayne have to say about him disrespecting our home team."
As proof of the city's fading pride, the former 2 Live Crew mastermind referenced his handling of past beefs with Death Row Records and Spike Lee when they disrespected him or his city. Campbell claimed that Dr. Dre and Snoop Dogg couldn't set foot in Miami for years until he and Suge Knight came to peace and bragged about the time he and Miami politician Joe Arriola trash talked Spike Lee into fleeing his courtside seats in the middle of a game.
Uncle Luke closed his piece by wondering if he would have to come out of retirement to restore order to his hometown paradise because everyone else had "gone soft."
"I've got no problem telling Lil Wayne where he can go," Campbell wrote.

BET.com is your #1 source for Black celebrity news, photos, exclusive videos and all the latest in the world of hip hop and R&B music.
(Photos from left: Larry Busacca/Getty Images, Jason Merritt/Getty Images For DirecTV)