Who is Kidd Kenn? The Chicago Rapper Who Lit Up The Digital Cypher
He started out by remixing Chicago drill songs.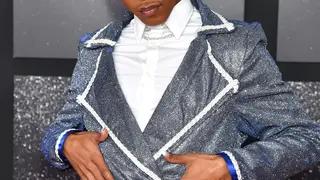 As usual, the night was nothing short of legendary, with performances from Paul Wall and Nelly, surprise — and wild —  guest appearances as well as nonstop funny moments from the 85 South, who served as hosts. 
One unexpected and nonstop highlight of the night was Chicago rapper Kidd Kenn. Born Dontrell Smith, the 18-year-old rhymer bodied the red carpet, sporting an eclectic blue suit with hair to match. Not to mention a face that was beat to perfection.  
Additionally, Kidd Kenn's verse during the Hip Hop Award's "Digital Cypher" was a crowd favorite, so much so that a snippet of the verse went viral. 
So who is this mysterious, young rapper from the city of wind making waves? Well, now the ceremony is over, it's a sure good time to find out. Here are five facts you didn't know about Kidd Kenn.
The Music

While Kidd Kenn is only 18, he's been and rapping since 2018, with original tracks like "Eriod" as well as remixes of popular songs like G Herbo's "Never Cared" and Desiigners "Panda". 

That's the same year he released his debut tape, Childish, which led him to his signing to Island Records in 2019. Kenn would then go on to release Child's Play in 2020, followed by his latest release, Problem Child which came out this past June.

One Of The First Openly Gay Rappers

While rappers like Tyler, The Creator and Lil Nas X get a great deal of credit for helping destigmatize homophobia in the hip hop community but Kenn has been openly gay from the moment he started rapping circa 2018. 

"People in my community [are] building stuff in this game and it shows from what everybody is doing that [success] is going to happen. We're making room. We're here. So I just know the plan that I have is most definitely working, and I'm doing it right" he tells Red Bull in an interview.

Is a Nicki Disciple

When it comes to influences, make no mistake about it — he's a student of Nicki Minaj.  

"I learned from the best, period," he tells Red Bull.  I always give credit to Nicki Minaj. She literally taught me everything. I'm a barb. I know every Nicki song, so I basically rapped her lyrics. I learned her cadence and her tone, and how she did it helped me find who I was, how I wanted to come and be. I kept working on my craft and found my tone a good year ago."