Reginae Carter Claps All The Way Back At Troll Who Shaded Her Relationship With YFN Lucci
The 22-year-old made it clear that not everything is about her boyfriend.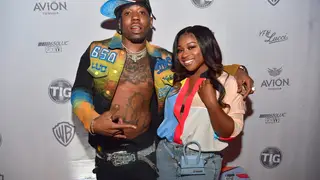 Reginae Carter was doing some casual venting on social media and for some reason a hater thought she was talking about her boyfriend YFN Lucci. Reginae was not here for it.
On March 16, Carter tweeted, "I swear I went above and beyond for some people & they have the nerve to have amnesia now ... k cool."
She also added, "I sat at tables and had to eat my damn self and still fed a mf before I ate . That same mf bit my hand quick .Never again."
A user responded with, "Girl just let that nigga go damn!"
Reginae clapped all the way back with, "B**ch ain't everything about that n**ga imma tell u now."
See below:
In January, Lucci, whose real name is Rayshawn Bennett,was booked into Fulton County Jail in Atlanta and now faces a murder charge for alleged involvment in a shooting.
Attorney Drew Findling is working on the 29-year-old rapper's case and said at the time, "Our review of the initial evidence made available to us, indicates there is no basis for any criminal charges against Rayshawn Bennett. We will continue our own investigation on his behalf," Findling told Billboard.
YFN Lucci was bonded out of jail in early February.