Trina Honored By Black Music Moguls During BET Hip Hop Awards Weekend
The baddest gets her flowers.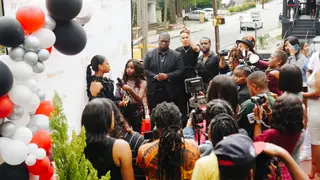 During one of the most important weekends in rap culture, Katrina "Trina" Taylor was honored by a slew of power players in music for her trailblazing career in hip-hop. 
On the heels of this year's BET Hip Hop Awards ceremony, which took place at the Cobb Energy Performing Arts Centre in Atlanta on Saturday (Oct. 5), the producers behind the Power 50 Black Music Moguls Brunch fêted the Miami native as this year's recipient for her presence and accomplishments as a female MC in the perpetually male-centric industry of rap. 
Despite all her accolades and titles (everything from Billboard and BMI awards to being crowned "the most consistent female rapper of all time"), being committed to her authenticity in a business where success is too often predicated on smoke and mirrors has been her greatest feat. 
"Just staying true to myself. I believe this is a very male-dominated industry. I've done so much. I always just try to take the highs with the lows. If there's something I don't feel like I did my best at, I'll keep trying at that. When it comes to just staying true to myself and what I believe in and constantly growing, I'm always going to be doing that. I'm never going to change that," Trina shared with BET on the red carpet just outside Simon's Restaurant in Midtown ATL.
As far as her contributions in helping pave the path for the Cardi Bs and Megan The Stallions of the world today, Trina had this to say: "It's a beautiful thing. I can remember when I was starting out—when I started, there were other people before me. There was Missy [Elliott]. There was Salt N Pepa. There were all these people that inspired me. So when I hear the same thing about me, it feels good.
"I hear it all the time and in all the girls in music. I hear it in the interviews. When I hear it and they tell me, it's like a reminder. It's a refresher. Especially when it's a new artist and it's my first album and older stuff that inspired them. It always brings me back to like, 'Wow, these girls were younger and they were paying attention. And now they're here.'"
Along with Emma Jackson and Malita Rice, one of the key producers behind the Power 50 Black Music Moguls Brunch, Niya Skyy thought it was critical to honor Trina in a moment in hip-hop history where the face and voice of rap is indisputably female.
"I think it's super important that we give people their flowers while they are still here, when they can smell them, and feel them," Skyy explained to us over email. "Trina is truly an icon; it's because of her that the state of women in hip-hop is so successful right now. She paved the way for some of the artists we love today—the City Girls and Megan The Stallions. I think this was long overdue, and we could tell it brought her spirits up!"
The tribute comes just a little over a month after news surfaced that the rapper's mother lost her life to cancer. While accepting her award, a visibly emotional Trina gave thanks to her fans while remembering her mother and best friend.
"I'm grateful, I'm humbled and I feel so empty inside, but I'm standing before you because I also feel so filled by everyone who came out for me today," she said. "I'm just grateful. Thank you, guys."