Megan Thee Stallion Has Additional Comments About Tory Lanez Shooting Case
"I want him to go jail," the "Plan B" artist says in an interview with 'Rolling Stone.' "I want him to go under the jail."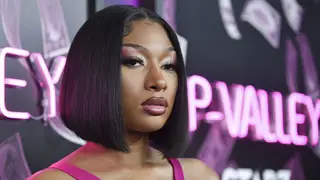 Rapper Megan Thee Stallion is the latest cover star for Rolling Stone and is continuing to double down on her stance on the Tory Lanez shooting case and what she wants the verdict to be.
"I want him to go jail," the "Plan B" artist says. "I want him to go under the jail."
Speaking to the publication, Meg shared that she believes that she's been portrayed as the villain in the case because she doesn't fit the ideal mold of what Hollywood gravitates towards.
"In some kind of way I became the villain," she said. "And I don't know if people don't take it seriously because I seem strong. I wonder if it's because of the way I look. Is it because I'm not light enough? Is it that I'm not white enough? Am I not the shape? The height? Because I'm not petite? Do I not seem like I'm worth being treated like a woman?"
The 27-year-old also took a moment to respond to Lanez's continuous comments refuting her claims of what happened back in 2020 in the Hollywood Hills.
"I feel like you've already tried to break me enough. You've already shot me. So, why are you dragging it out like this? Like, what else? Have you hated me this much the whole time and I didn't see it?," she further explains.
In other Megan news, she is currently has plans to drop her sophomore album this summer and credits her emotions over the last few years that helped her create her newest body of work.
"I want to take you through so many different emotions," she shares. "At first you was twerking, now you might be crying."
Read the full Rolling Stone cover story here.