Real Housewives of Potomac's Karen Huger Abruptly Walked Out Of Own Party Over An Unwelcome Guest
The drama was explosive.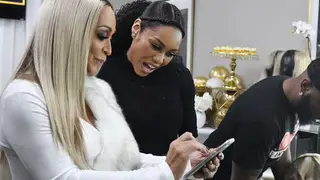 After an eventful trip to Portugal, the ladies of Real Housewives Of Potomac have brought their drama back to D.C.
Sunday night's (November 29) episode of The Real Housewives of Potomac featured a gathering at Karen Huger's house in honor of her new wig line. It ended with Karen making an abrupt exit at her own party after drama flared up over an unwanted guest.
It all started when Ashley Darby met with Monique Samuels for lunch, and Monique revealed that Huger had asked her to come to her wig launch party — but Monique was skeptical of the invitation given her history of conflict with Candiace Dillard.
"She's been asking me all weekend to come and I told her if I do come, I can come early — [she's] obviously going to invite Candiace and I want to support [her], but I'm not ready to be in the same space as Candiace," Monique said to Ashley.
That's when Ashley dropped a little bomb: "Girl, she said that you weren't invited," Ashley replied, referencing a conversation Ashley had with Karen in Portugal.
Monique went to the event regardless, but was definitely in her feelings about the behind the scenes drama. "To lie about inviting me definitely hurt, but you know what? It's her night. It's her party," she said. "She's going to do what she needs to do to protect her event, and I'm not mad about that."
Things got rocky when Monique learned that Candiace was on her way, and Karen started dropping hints that she wanted Monique to leave. "I thought we would be able to relax ... have a glass of champagne and catch up," Monique said in a confessional. "So I'm like, why are you rushing me out?"
Later, Ashley confronted Karen about her duplicitous behavior, standing up for Monique after she left the party. Karen didn't take it well.
"We have guests here. I'm going to ask you to be respectful. So I'm going to get ready and enjoy the rest of my evening. And thank you all for coming. Okay? Thank you," Karen replied to Ashley.
Karen then did the unthinkable: she left her own bash. In a confessional, Karen said, "I have warned these women ... I am leaving the party because I'm simply embarrassed and I'm tired of this. It's unacceptable. It looks stupid."
Karen then grabbed her husband, Ray, and announced she would be leaving and walked out.
"How do you leave your own party the moment you get called out? Hello, welcome. Thank you for coming to this bulls***," said Wendy as she watched Karen and Ray make their departure.
Watch what all happened below: