This Week In Good Black News: BET Awards Takeover, Angela Bassett Will Get Her Oscar And Drake Drops A Poetry Book
Plus, a huge win for voting rights.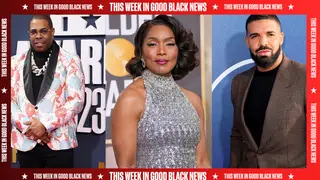 The good news was on fire this week. The 2023 BET Awards was epic, Angela Bassett is finally getting her flowers from the Academy Awards and Drake is officially a poet. In case you missed it, check out "This Week In Good Black News."
The BET Awards Takes Over Social Media

This year's BET Awards nearly broke the internet with blazing performances from Latto and Patti LaBalle, tributes to 50 years of hip-hop, and a spectacular show-off and speech from BET's Lifetime Achievement Award recipient Busta Rhymes. Some notable wins were Burna Boy taking home Best International Act, Latto for Best Female Hip Hop Artist, Beyonce winning the BET Her Award for the No. 1 song "Break My Soul" and she won the Viewer's Choice Award. There was also a moving tribute to Takeoff, who was fatally shot in November, by Migos, watch above.

Angela Bassett Will Get Her Oscar

According to Variety, Angela Bassett will receive an honorary Oscar at this year's Governors Awards. The 14th annual ceremony will take place Nov. 18, 2023, in Los Angeles. "Across her decades-long career, Angela Bassett has continued to deliver transcendent performances that set new standards in acting," said Janet Yang, president of the Motion Picture Academy of Arts and Sciences. Congrats to the legendary Angela Bassett!

Tichina Arnold Celebrates Her Birthday

The legendary actress Tichina Arnold – a frequent Soul Train Awards host – celebrated her 54th birthday on June 28. The NAACP Image Award winner has a career that spans four decades and her hit series The Neighborhood was recently renewed for season six. See the video above of her on the beach with a drink. Live life, queen!

Blair Underwood Gets Married!

Actor Blair Underwood, 58, has married Josie Hart, who have known each other since they were teenagers. On June 24, they tied the knot in a destination wedding off the coast of the Dominican Republic at Casa de Campo Resort & Villas, as reported by PEOPLE.  Their vision for their ceremony was brought to life by wedding planner to the stars Theresa Calcos of Casa de Campo, who collaborated with Angelica and Adriana Noriega of Caribbean Celebrations. Underwood was previously married to Desiree DaCosta from 1994 to  2021.

Philadelphia Will Launch Reparations Task Force

Philadelphia has become the latest city to announce the creation of a Reparations Task Force to examine if the descendants of enslaved Africans will receive compensation for the ongoing effects of slavery, reports The Philadelphia Tribune. After several consultations with the Philadelphia chapter of the National Coalition of Blacks for Reparations in America, city council members introduced the measure in early June. By approving the measure,

Philadelphia joins other cities like Detroit and Chicago, and states such as California and New Jersey, which have similar commissions to explore what kind of economic considerations could be given to descendants of enslaved Africans. According to a survey conducted by Pew Research Center in 2022, 77% of Black Americans support reparations in comparison to 18% of white Americans.

Deion Sanders Is Healing After Emergency Blood Clot Surgery

Former NFL player and current University of Colorado football head coach Deion Sanders is healing after emergency surgery for blood clots in his legs, according to CBS Sports. On June 24, the Pro Football Hall of Famer shared an Instagram post, "I had a big blood clot in my thigh that they got out, and I had some below my knee that they got out. Then I've got one in the right leg that they're going to get soon." There was talk of his foot possibly needing to be amputated, thankfully, it appears that no longer needs to happen. Over the last several years, Sanders has had numerous health issues related to his lower extremities. When he was the head football coach at Jackson State University,  he missed three games during his recovery to have two of his toes amputated.

Supreme Court Rules Against State Legislatures Having Uncheck Power Over Federal Elections

When Trump decisively lost the 2020 election, Republicans attempted to institute the "independent state legislature" theory, which would allow state legislatures to overturn the votes of the people, giving states the primary authority to determine elections. In a 6-3 vote, the Supreme Court declined to  uphold this radical Republican legal effort. Former President Barack Obama reacted on Twitter, "Today the Supreme Court rejected the fringe independent state legislature theory that threatened to upend our democracy and dismantle our system of checks and balances."

Drake Drops A Poetry Book

Grammy-winning rapper Drake has dropped his first poetry book, Titles Ruin Everything, A Stream of Consciousness. The 168-page paperback book is never-before-published content and is exclusively available on his website. In a caption on Instagram, the 36-year-old wrote, "I don't know if I have ever wanted people to buy or support something more in my life." See the post above.

'Coming To America' Celebrates 35 Years

Thirty five years ago this week, Eddie Murphy's Coming To America hit theaters. 1988, it was a cultural movement with an all-star cast that included Murphy, Arsenio Hall, James Earl Jones -- and an even young unknown Cuba Gooding Jr., in a minor role. The hilarious story of an African prince searching for love in New York City was a box office smash, grossing more than $288 million worldwide and became the third-highest-grossing film at box office in U.S. Check out the vintage trailer above.

Central Park Five Member Yusuf Salaam Wins Democratic Primary In New York City

Nearly 35 years after he was wrongfully accused of assaulting a white woman in Central Park, Yusef Salaam defeated two New York Assembly members on June 27 in a New York City Council primary election, making him one step closer to winning elected office in the November general election. Salaam, 49, was one of the five Black and Latino teens found guilty at trial, based on coerced police confessions, in the notorious 1989 Central Park rape jogger case. He served nearly seven years in prison. Their convictions were thrown out in 2002 after a career criminal confessed to the attack. The motion led to them being popularly called "The Exonerated Five." See his acceptance speech above.