Celebrating A$AP Rocky's Birthday: A Playlist of His Greatest Hits
The rapper turns 35 today.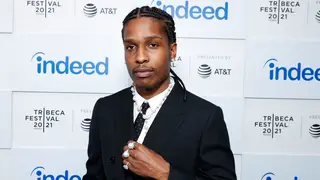 Rakim Athelaston Mayers, better known to the world as A$AP Rocky, is a Hip-Hop sensation, fashion icon and cultural tastemaker who has taken the music industry by storm. As he turns 35, it's the perfect time to celebrate his contributions to the rap game and his evolution as an artist. A$AP Rocky has consistently pushed boundaries, both in music and style. So, let's dive into his world and commemorate his 35th birthday with a playlist of his greatest hits.
"Goldie" (2012)

A$AP Rocky's breakout hit, "Goldie," introduced the world to his unique flow and style. With a catchy beat and memorable lyrics, this track remains an essential part of his discography.

"F**kin' Problems" (2012)

Featuring Kendrick Lamar, Drake and 2 Chainz, this collaboration became an instant hit. A$AP Rocky's smooth verses combined with the star-studded lineup make this track a must-listen. The song charted at No. 8 on the Billboard Hot 100, his biggest chart-topper as a lead artist. 

"L$D" (2015)

"L$D" showcases A$AP Rocky's versatility as he delves into a more melodic and introspective sound. The dreamy production and heartfelt lyrics make it a standout in his repertoire.

"Everyday" (2015)

With a sample of Rod Stewart's "In a Broken Dream," "Everyday" is a reflective track that explores fame and its impact on A$AP Rocky's life. It's a thought-provoking piece from his album "At.Long.Last.A$AP."

"Praise the Lord (Da Shine)" (2018)

This collaboration with British rapper Skepta is a banger that celebrates the global reach of Hip-Hop. A$AP Rocky's energetic verses and Skepta's distinctive flow make it a standout track.

"Babushka Boi" (2019)

A$AP Rocky's storytelling shines in "Babushka Boi," addressing personal experiences and societal issues. The music video is a visual masterpiece that adds depth to the song's narrative.

"A$AP Forever" (2018)

"A$AP Forever" is an anthem that pays homage to A$AP Rocky's roots and rise to fame. With its catchy chorus and clever wordplay, it's a standout track from his "Testing" album.

"Fashion Killa" (2013)

A$AP Rocky's influence in the fashion world is well-documented, and "Fashion Killa" is a testament to his style. The track combines his love for fashion with his lyrical prowess.