Jason Derulo Throws Hands in Vegas After Two Men Call Him 'Usher'
Video footage shows the singer leaping at them after being insulted.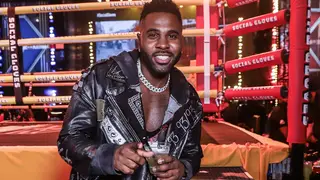 One thing you're not going to do is call singer-songwriter Jason Derulo out of his name.

According to TMZ, the pop artist was caught throwing hands in Las Vegas when a man cursed him out and called him Usher. The incident occurred at the Aria hotel on Tuesday morning, Jan. 4, and found Derulo and his entourage clashing with a group of men after the insult and slight were lobbied in Derulo's direction.

"Hey, Usher! F**k you, b***h," the man reportedly said.

Additional footage finds the "Wiggle" musician being escorted out of the hotel in handcuffs moments after the fight broke out.
And it didn't end there as Jason allegedly stepped to the second guy to continue the fade. Security was able to break up the scrum, but now attention turns to whether or not the two people are going to press charges against Derulo and company. 
TMZ reports that Derulo received a trespassing notice from Aria, was removed from the property, and there were no injuries that required medical attention.