Who's The G.O.A.T.? Roc-A-Fella vs G-Unit | Round 1
In the tournament to decide the greatest rap crew of all time, this Round 1 battle is between JAY-Z's Roc-A-Fella and 50 Cent's G-Unit.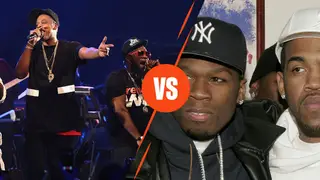 In recognition of hip hop's 50th anniversary, BET Digital, in partnership with Ambrosia For Heads, is celebrating the culture by hosting a bracket-style competition that allows you to determine hip hop's greatest crew. 
Rather than having "experts" tell you who is the greatest of all-time, this is your opportunity to collectively make that decision. After giving the opportunity to any and all fans to provide feedback on which crews should be included, 32 collectives from different regions, styles, and generations have been selected—all vying for that #1 spot. When the final battle is over and the last vote is cast, you will have determined who is your Greatest Rap Crew of All Time.
Roc-A-Fella and G-Unit were dominant forces in the early 2000s, and their impact remains today. Under the superstardom of JAY-Z and 50 Cent were teams of hungry artists waiting in the wings. In both cases, these included figures from these artists' pasts but also quickly expanded to include talented creatives from around the country and veterans who seamlessly fit into the movement. Both Roc and G-Unit meant far more than a crew name. 
Each became an attitude, an aesthetic, and a way of life. At times, these ideologies clashed competitively. In other moments, members of these crews came together for powerful results. In 2007, Jay hopped on 50's "I Get Money" remix, while Lloyd Banks and Juelz Santana came together for a car-inspired hit in "Beamer, Benz, Or Bentley." The Roc Boys face off against G-Unit in a Round 1 clash celebrating two major heavyweights.
Roc-A-Fella
In the early 2000s, JAY-Z referred to his clique as "Roc La Familia," and this enterprising crew felt like family. Jay's first three albums began ushering new voices into the mix, including Memphis Bleek and Beanie Sigel. 
In the case of Beans, he would lead State Property, a Philadelphia-based offshoot that introduced the world to Freeway. At the same time, the Roc was a beacon for established artists. Cam'ron, who would eventually take an executive position at the label, found his first platinum success there with "Hey Ma" and "Come Home With Me." 
Dipset made their gold-certified debut less than a year later. Roc-A-Fella may be better known for growth and development within. Kanye West, a producer with artist ambitions, grabbed the microphone and stepped into the spotlight to become a homegrown superstar by the mid-2000s. West was joined by another star producer, Just Blaze, who specialized in creating posse cuts. Freeway's "What We Do," like "1-900-HUSTLER" before it, showed the emerging MC in peak form alongside Jay and Beans. Cam's "The Roc (Just Fire)" flaunted the bond of a crew pulling from Brooklyn, Harlem, and Philly. 
Kanye frequently enlisted Roc stars on his albums. The Roc-A-Fella chain came to represent the knighting of a talented and sprawling roster of artists and producers. Long after Jay's involvement with the Roc as a label, the chains remain, and the gang is intact. In 2011, JAY-Z and 'Ye teamed up for "Watch The Throne," a massively successful collaboration album. Nearly 30 years later, Roc-A-Fella lived up to its promise, creating a dynasty like no other.
G-Unit
During the 2000s, 50 Cent and his cohorts took G-Unit from a mixtape brand to the top of the charts. Along the way, G-G-G-G-Unit became one of the biggest battle cries in rap, as well as a label, a clothing company, and a film division. The movement launched around the aptly-titled 2002 DJ Whoo Kid mixtape "50 Cent Is The Future." Rapping to industry beats, the Queens, New York trio of 50, Lloyd Banks, and Tony Yayo prophesied an industry takeover. 
Nashville's Young Buck was the lone guest in the days before he would formally join the collective. That same month, 50 signed with Eminem's Shady Records and immediately brought his crew into the conversation. 2003's "Get Rich Or Die Tryin'" became a nine-times-platinum debut, with G-Unit peppered throughout. 2003's "Beg For Mercy" was another statement album, bringing the whole crew—now including Buck—into sharper focus. 
During his brief but memorable stint in the G-Unit family, The Game released two Top 5-charting collaborations with 50, "How We Do" and "Hate It Or Love It," while Banks had his own Top 10 tandem success with "On Fire." 
Other artists in the bi-coastal crew eventually included Mobb Deep, Spider Loc, and New Orleans' Kidd Kidd at times. These artists and others collaborated on mixtapes and compilations. At their core, 50 Cent, Tony Yayo, Lloyd Banks, and DJ Whoo Kid remained tightly knit for nearly a decade and a half. As a reflection of the G-Unit's lasting impact 20 years later, Yayo guested on Lloyd Banks' 2022 album, and the brand exists on television.
In this celebration of hip hop and all of its talented crews, your vote decides the winner, so vote below.
---
EDITOR's NOTE: Register for the sweepstakes for a chance to win the grand prize of two (2) tickets to the 2023 BET Awards, two (2) round-trip airline tickets, and a 2-night hotel stay on June 25. Up your chances to win by voting weekly.
NO PURCHASE NECESSARY TO ENTER OR WIN. VOID OUTSIDE OF THE 50 U.S. & D.C. AND WHERE PROHIBITED BY LAW. Open to legal residents of the 50 U.S. & D.C. who are 18 years of age or older at the time of entry. Ends at 12:00 p.m. ET on May 1, 2023. Official Rules: bet.com/grcoat-official-rules  Sponsor: Black Entertainment Television.