Black Lawmakers to Host First Hearing on the Status of Black Males
Congressional Black Caucus members will explore disparities and challenges faced by African-American men and boys.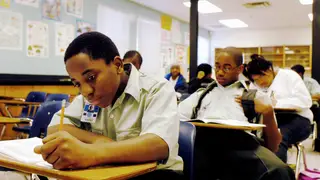 Black lawmakers on Capitol Hill in March established the Congressional Caucus on Black Men and Boys to raise awareness about issues like these that disproportionately affect this demographic. On July 24, the group will hold its first hearing, titled "The Status of Black Males: Ensuring Our Boys Mature Into Strong Men."
Pointing to barriers to success, such as the likelihood of being racially profiled, having little or no access to quality health care or to have suffered from gun violence, Rep. Danny Davis called for the end of these and other disparities.
"We know that our nation cannot be true to its values, indeed cannot sustain itself, divided by such persistent inequalities," said the Illinois congressman and caucus co-chair. "This hearing is a key step [to focus] the attention and creativity of our nation [on] addressing the profound causes and consequences of this great divide.
Wednesday's panelists will include former congressman and NAACP president Kweisi Mfume; Georgetown professor and social policy commentator Michael Eric Dyson; and David Johns, executive director of the White House Initiative on Educational Excellence for African Americans.
BET Politics - Your source for the latest news, photos and videos illuminating key issues and personalities in African-American political life, plus commentary from some of our liveliest voices. Click here to subscribe to our newsletter. 
(Photo: Micah Walter/Getty Images)