Twitter Slams Kylie Jenner for Trying to Look Like a 'Light-Skinned Black Woman'
See the pic that has people wondering about her Golden Globes look.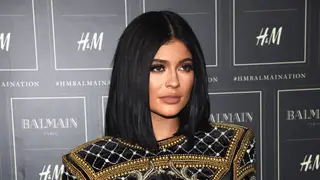 Kylie Jenner has come under fire time and again for cultural appropriation (remember those corn rows?), but two photos recently surfaced that may be the strongest evidence yet that the youngest Kardashian-Jenner is trying really, really hard to be Black.
Exhibit A: her Golden Globes look. While at first, the skin-baring gown and pancake makeup looks like your average awards show glam, closer inspection reveals what appear to be baby hairs lining Kylie's hairline. What's more, her skin tone seems several shades darker than usual, so much so that Black Twitter did a double-take.
"Shes tryna be black so bad thought that was Ciara," wrote on Twitter user, while another compared her to Zendaya. Check the side-eye below:
On to Exhibit B: her obsession with L.A. boutique 424 on Fairfax's collection of political statement sweatshirts. Kylie has been spotted all over the place wearing the luxury casual wear, which features a photo of police officers dressed in riot gear with the caption, "We're Here to Help." Kylie loves the bold pieces so much, which speak to 424 designer/owner Guillermo Andrade's views on police brutality, that she shared full details of how to buy them on her app.
Since Kylie has never shared her own views on police brutality before, we can't tell if she's trying to say something with the sweatshirt or if she just thinks they're "cute," or — third option — if this is somehow Tyga's influence. We'll leave it to you to decide.

(Photo: Frazer Harrison/Getty Images)
BET.com is your No. 1 source for Black celebrity news, photos, exclusive videos and all the latest in the world of hip hop and R&B music.