12 Black Romance Movies From The Last 12 Years For Valentine's Day
Here are a dozen Black movies to go with that dozen red roses.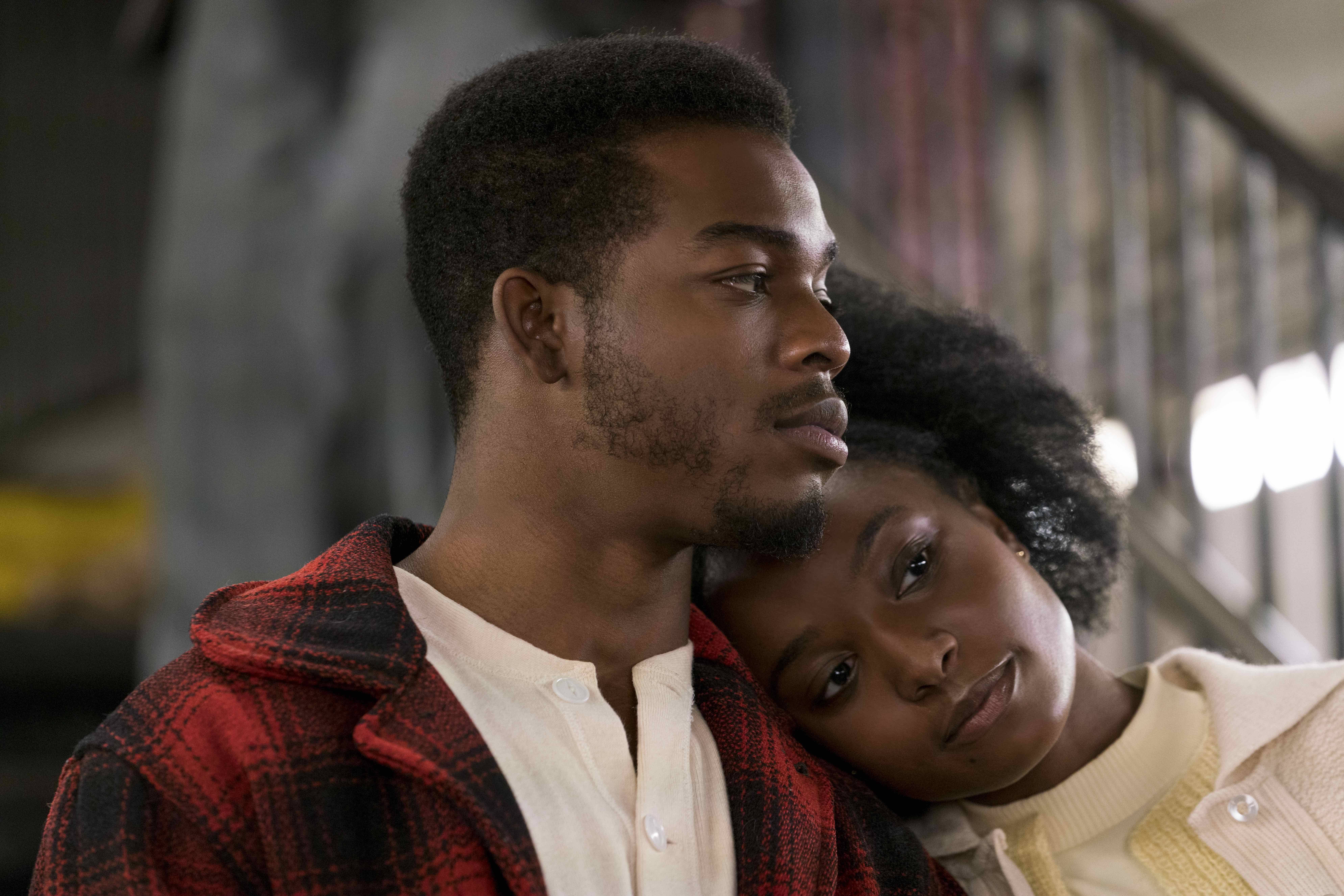 As Valentine's Day approaches, there is nothing quite like watching films about love and romance to set the mood with your significant other or to enjoy with friends. When it comes to Black cinema, there are a plethora of films that speak directly to us in the romantic comedy/romantic drama genres. From major studio releases to indie favorites, Black films centered on love and romance tell diverse narratives about the African American experience. 
But while we love our classics like Love Jones and Love and Basketball, we wanted to give some more recent films some shine. The result is a list of 12 Black Romance films from the last 12 years that depict our love in all the right flavors.
Medicine For Melancholy (2008)

Starring: Wyatt Cenac, Tracey Heggins, and Elizabeth Acker.

Waking up to a complete stranger is not the typical way to begin a relationship. But in Barry Jenkins' Medicine For Melancholy that's exactly what takes place. The film tells the story of two African American 20-somethings, Micha (Wyatt Cenac) and Jo (Tracey Heggins), who wake up in bed together, having no recollection of how they got there. From the appearance of things, it's pretty clear they've had sex. Deciding to get to know one another better, the two make a day of exploring race, class, gentrification and love to discover that their attraction for each other is mad real.

Our Family Wedding (2010)

Starring: Forest Whitaker, America Ferrera, Carlos Mencia, Diana-Maria Riva, Lance Gross, Charlie Murphy and Regina King

When an African American family and a Mexican American family attempt to plan a wedding together, you know it's gonna be a riot! Soon after returning from college, Lucia (America Ferrera) and Marcus (Lance Gross) announce their engagement to their parents. The intended couple soon realizes they have to protect their families from themselves. Name-calling, culture clashing, and male egos spill over as the bride and groom's father's (Forest Whitaker, Carlos Mencia) constantly try to outdo each other. All this craziness threatens to end the marriage before it begins. Our Family Wedding is proof that real love can survive despite our wild families.

Just Wright (2011)

Starring: Queen Latifah, Common, Paula Patton, James Pickens Jr., Pam Grier Phylicia Rashad, and Laz Alonso 

Placing Hip-Hop icons Queen Latifah and Common in a romantic comedy together is sure to lead to many laughs built aorund a romantic story that gives us hope that the right one is out there somewhere.

Physical therapist Leslie Wright (Queen Latifah) lands the gig of her dreams as she gets to help Scott McKnight (Common), an NBA star, recover from an injury. She tries to keep it professional but ends up falling in love with him. Scott has no idea about Leslie's feelings towards him and is instead in hot pursuit of her best friend Morgan, (Paula Patton) who dreams of becoming an NBA wife. Will Leslie share with Scott her true feelings? Just Right is a gem of film where two rap legends teach us more about love than we ever imagined. 

Jumping The Broom (2011)

Starring: Paula Patton, Laz Alonso, Angela Bassett, Loretta Devine, Valarie Pettiford, Mike Epps, Brian Stokes Mitchell, Meagan Good ,Tasha Smith, DeRay Davis Romeo Miller, Pooch Hall, Gary Dourdan, and T.D. Jakes

The act of "jumping the broom" is an African American tradition that dates back to the 19th century. But in the film Jumping The Broom, it's more likely that these two families will jump on each other.

Sabrina Watson (Paula Patton) is a successful corporate lawyer who comes from an elitist, wealthy family who has high expectations for her. She meets Jason Taylor (Laz Alonso), a Wall Street worker, and the two have an instant connection. After a courtship, the lovely couple gets engaged and everyone is excited, right? Wrong. When Sabrina's uppity parents (Angela Bassett, Brian Stokes Mitchell) meet Jason's working-class mother (Loretta Devine) and the rest of his family at their plush estate on Martha's Vineyard, the two families are set on a collision course. In Jumping The Broom, even families who are at each other's throats can stop to appreciate the allure of a real romance.

Middle of Nowhere (2012)

Starring: Emayatzy Corinealdi, David Oyelowo, Omari Hardwick, Lorraine Toussaint, Dondre Whitfield, and Maya Gilbert

In her second independent film that she wrote and directed, Ava DuVernay tells a beautiful story of how love can find you even when you're not looking for it. A medical student (Emayatzy Corinealdi) considers leaving her incarcerated husband (Omari Hardwick) for a smooth bus driver (David Oyelowo). Will she stay loyal to her husband or will she follow her heart to find true love? Middle of Nowhere is a stunning story about how loyalty, love, and romance are found in the unlikeliest places and at the most unexpected times.

Baggage Claim (2013)

Director: David E. Talbert

Starring: Paula Patton, Derek Luke, Taye Diggs, Jill Scott, Adam Brody, Djimon Hounsou, Jenifer Lewis, and Ned Beatty 

Even in an airport, true love could be waiting. That's how it goes down in the light-hearted, rom-com Baggage Claim. Montana Moore (Paula Patton) knows she can get her overbearing, several times divorced mother (Jenifer Lewis), off her back once she finds herself a husband. When her only prospect Graham (Boris Kodjoe), falls through, she's stunned to find out her younger sister, Sheree (Lauren London), becomes engaged before she does.

Montana's day ones, Sam (Adam Brody) and Gail Best (Jill Scott) are on a mission to help her find a husband before Sheree's wedding. Over the next 30 days, Montana flies all over the country hoping to reignite with some of her old flames, but she had no idea that her best friend and next-door neighbor William Wright (Derek Luke), has already fallen in love with her. In 30 days, Baggage Claim takes us on a flight of love and romance where what Montana has been looking for has been right in front of her the entire time.

About Last Night (2014)

Starring: Kevin Hart, Michael Ealy, Regina Hall, and Joy Bryant. 

Will Packer's About Last Night tells a hilarious story about how any night can be your night when it comes to love. While hanging out with his main man Bernie (Kevin Hart), Danny (Michael Ealy) meets successful businesswoman Debbie (Joy Bryant), who's just as skeptical about the possibility of a relationship as he is.

As time moves on, Danny and Debbie are both feeling each other and they end up spending the first of several nights together. The two try working it out as a couple even though Bernie and Joan (Regina Hall), Debbie's BFF, try to talk them out of it. But Bernie and Joan spark up a romance of their own after trying to stop their friends. Atlantic Star said it right, "When love calls, you better answer."

Beyond The Lights (2014)

Director: Gina Prince-Bythewood

Starring: Gugu Mbatha-Raw, Minnie Driver, Nate Parker, Danny Glover, and Machine Gun Kelly. 

While she has been prepared for stardom since she was a child by her demanding mother (Minnie Driver), singer Noni (Gugu Mbatha-Raw) is having a difficult time coping with her success. Pushed to the brink, Noni attempts suicide as her only way out, but Kaz (Nate Parker), a police officer commissioned as her bodyguard, steps in and saves her life. After this ordeal, Noni and Kaz fall for each other, much to the chagrin of those around them who want them to follow their individual career ambitions. Amazingly, Noni and Kaz truly believe their love will conquer all. 

Top Five (2014)

Starring: Chris Rock, Rosario Dawson, Gabrielle Union, Cedric the Entertainer, Kevin Hart, Sheri Sheppard, Michael Che, J.B. Smoove, Jay Pharoah, Tichina Arnold, Leslie Jones, Whoppi Goldberg, Jerry Seinfeld, Tracy Morgan, Taraji P. Henson, Gabourey Sidibe, and DMX

Andre Allen (Chris Rock) began his career as a stand-up comedian but became a movie star when he landed a role in a trilogy of action-comedies about a talking bear. Chelsea (Rosario Dawson), a writer for the New York Times, has been assigned to cover Andre's life for a day. It just happens to be the same publication that gave his film about the Haitian Revolution a terrible review. 

Over the course of their time together, Andre connects with Chelsea as they hang out in New York City. He tries to rediscover his comedic edge and you guessed it, a romance begins between the two. As Andre falls for Chelsea, he fully realizes his impending wedding with his reality star fiance, Erica Long (Gabrielle Union) is a sham. After losing his comedy mojo, Andre will have to do whatever he can not to lose his chance at true love.

Moonlight (2016)

Starring: Trevante Rhodes, Ashton Sanders, Alex Hibbert, Kevin Jones, André Holland Naomie Harris, Mahershala Ali, and Janelle Monáe

Moonlight takes a look at three chapters in the life of Chiron (Trevante Rhodes), a young Black man in search of his identity while growing up in Miami. As a teenager, he begins a sexual relationship with his friend Kevin (Andre Holland) which becomes a life-changing encounter. Although he endured physical and emotional abuse as a young man, Chiron still has the capacity to love and be loved as he reconnects with Kevin later in life. Moonlight is a gripping tale of Blackness, masculinity, and love that earned Jenkins an Oscar for Best Picture in 2017.

Girls Trip (2017)

Starring: Regina Hall, Queen Latifah, Tiffany Haddish, Jada Pinkett Smith, Larenz Tate, Mike Coulter, Kofi Siriboe, and Mike Epps

Anytime four Black women gather in New Orleans for the Essence Music Festival, anything can happen and that includes crazy adventures and new romances.

Four best friends, who call themselves the "Flossy Posse" have been drifting away from each other for years. But when one of the ladies is asked to be a keynote speaker at the Essence Music Festival in New Orleans, she decides to bring her friends along and turn up for a reunion with the old crew. On this wild ride, the ladies party hard, mend past hurts and find new love in one helluva weekend. Regina Hall, Queen Latifah, Tiffany Haddish, and Jada Pinkett Smith bring all the funny and get some romance along the way. Not to mention, grapefruit sales skyrocketed in its wake. 

If Beale Street Could Talk (2018)

Starring: KiKi Layne, Stephan James, Colman Domingo, Teyonah Parris, Michael Beach, Dave Franco, Diego Luna, Pedro Pascal, Ed Skrein, Brian Tyree Henry, and Regina King.

Based on the James Baldwin novel, If Beale Street Could Talk delves into the lives of a couple in Harlem in the 1970s. Tish (KiKi Layne) is engaged to her fiancé Alonzo Hunt (Stephan James), an aspiring artist, who goes by the nickname Fonny. Friends since childhood, the couple's hopes are dashed when Fonny is arrested for a crime he did not commit. Now the love that Tish and Fonny have is put to the limits. With the support of her family, Tish seeks to clear Fonny's name before the birth of their child. 

Not only does the film showcase the power of Black love but it was a critical success. Regina King, who plays Tish's mother, won a 2019 Academy Award and a Golden Globe for Best Supporting Actress.