Glo Up Goals: Is 'Skinny Rob Kardashian' Making A Comeback In 2018?
Khloe Kardashian's challenging him to lose more before she gives birth.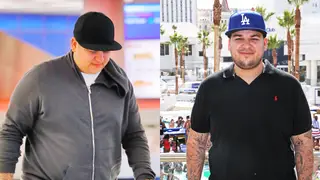 Saying Rob Kardashian has had a rough few years is an understatement, with the exception of his daughter, Dream Kardashian, of course. He's been body shamed by the media, a had a failed and very public relationship with Blac Chyna, and a had few medical scares. But Rob has decided that 2018 is going to be his year, and he's lost about 15 pounds so far to prove it. His weight loss hasn't gone unnoticed either, catching the attention of fans and even Cardi B couldn't resist hyping up Rob's progress.
The rapper commented on a side-by-side of Rob's "results," and while the edited image came from a fan account, it's the thought that counts. "Yaaaasss Rob!!!!!!" the captioned the doctored shots of "skinny Rob."
But Rob's real weight loss journey is in motion, and although the sock-preneur is currently being shy about it, we only hope it's a setup for a big reveal. Perhaps on an episode of Khloe Kardashian's Revenge Body? Struggling with depression, he ate to cope with the emotional turmoil and gained over 100 pounds. By 2015, he weighed almost 300 pounds ― and everyone knows, there's no such thing as an overweight Kardashian. However, it wasn't family pressure that made Rob turn his life around.
When Dream was born Rob dedicated himself to healing inside and out. Unfortunately, his split with Blac Chyna temporarily derailed his journey to wellness. But this year, he's recommitted himself to recovery.
According to an insider from HollywoodLife.com, "He doesn't want little wins to be the constant, he wants to win in his health and have it be permanent and 2018 is now another chance for him to achieve that. He hopes his family doesn't bug him and he is looking forward to doing it by himself to prove everyone wrong and be the Rob he always has wanted to be."
Rob wants to handle this alone, but that didn't stop big sis Khloe from giving him a little extra push. She thinks he can shed another 20 pounds before she gives birth in April. 
"Khloe [Kardashian] is making it her mission to get Rob healthy again," a source told HollywoodLife.com. "She has a couple of months left before her baby arrives and her big priority is getting Rob back on track. He's grateful for her help and so far seems very motivated. He says he wants to get back to being himself again, he misses life. Rob's actually making some progress, he hasn't lost a ton of weight yet but he's down about 15 pounds so it's a good start. Khloe has challenged him to drop another 20 pounds by the time she has her baby, that's the goal." 
Good luck, Rob! You got this.