Trump Indicted on Charges Related to 2020 Election Probe
A grand jury has decided that there is enough evidence to examine the former president's part in the efforts to overturn the 2020 election on Jan. 6.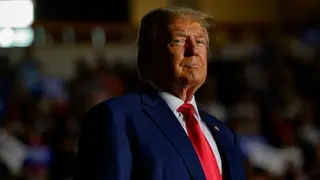 A federal grand jury has indicted former President Donald Trump on charges related to his alleged attempts to stay in power after losing the 2020 election, CBS News reports. The development comes as he continues to mount a bid to return to the White House for a second term, but also as multiple legal battles continue to encircle him.
According to the indictment, handed down Tuesday (Aug. 1) Trump is charged with conspiracy to defraud the United States; conspiring to obstruct the Jan. 6, 2021 certification proceeding for the 2020 election; obstructing that proceeding and; conspiring against the right to vote as defined in the U.S. Code.

This indictment is the third criminal case brought against Trump, marking the latest in several investigations into the political dealings of the former president and his cohorts related to his attempts to remain in power, despite losing the election to Joe Biden.
"The purpose of the conspiracy was to overturn the legitimate results of the 2020 presidential election by using knowingly false claims of election fraud to obstruct the federal government function by which those results are collected, counted and certified," the indictment said.
Trump, and a large number of Republicans have consistently claimed that the 2020 election was rigged and that he is the legitimate winner. However,  they have never provided decisive evidence of that, despite several inquests into the voting records of states that would have made the biggest impact like Arizona, Nevada and Pennsylvania.

Trump and his former attorney Rudy Giuliani even accused Shaye Moss, a Georgia election worker of working to rig the election against him, accusing her of fraud. And yet, a review of video footage by state officials found no such fraud occurred and Moss was cleared of wrongdoing. Last year, Moss and her mother Ruby Freeman settled a lawsuit against conservative outlet One America Network (OAN).

Trump's claims that he actually won the election incited a deadly riot at the U.S. Capitol on Jan. 6, 2020, causing members of Congress and then-vice president Mike Pence to evacuate and take cover. Five people, including a U.S. Capitol police officer were killed, hundreds of others were injured. In the aftermath 485 people have been federally convicted of participating in storming the building.
Trump is the first person to have held the office of president to ever be indicted on charges. He maintains his innocence. He has pleaded not guilty to all charges in prior criminal cases and vows that this is part of a political witch hunt to derail his presidential campaign.