Target Fires Employee For Putting "It's OK To Be White" Cards In Boxes Of Diapers
At least three customers found the racially charged notes.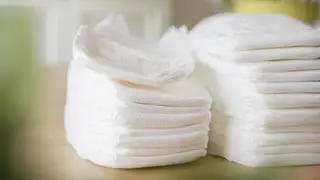 Target announced an employee has been fired after placing white supremacy cards into packages of diapers that were delivered around the country.
People in Florida, North Carolina, Virginia, Washington, D.C., and Tennessee, have tweeted photos of the laminated cards printed that read "IT'S OKAY TO BE WHITE." All of the people found the messages in boxes of diapers they ordered from the retail giant, reported Buzzfeed News.
On the back of the cards, several white supremacist websites, including the Daily Stormer and bloodandsoil.org, were listed.
A representative from Target said the company identified the person responsible and took action.
"After being made aware of the situation, we immediately launched a thorough investigation to address the concerns and put a stop to it," Target spokesperson Joshua Thomas told Buzzfeed. "We have identified the source, and given this is a violation of our policies and our commitment to inclusivity, terminated the team member."
Although it is not clear how many diaper packages were affected, most photos of the cards were posted over the last few weeks.
Mike Lechter, of Hollywood, Florida, tweeted a photo of the card in early March

Days after Mike posted his photo, Amy in Virginia found a card in her box of Pampers

Weeks later, Tad Russell, of Chattanooga, Tennessee, said he found the white index card in a case of Pampers diapers he purchased at a local Target

Pampers responded to Russell's thread and apologized for the offensive card

In a Facebook post, Target said they "reviewed footage of the diapers being packed and shipped, but did not see anything added into the diaper box."

"Based on the design of the diaper box, we also think that the laminated card must have been slipped in through the handles of the box, but we don't have a way to identify where/when or who would have slipped it in there," an employee named Jenna said in a Facebook message. "Unfortunately this card wouldn't be detected by our team member during the packing process, since we wouldn't have opened the sealed diaper box to inspect the contents."