Additional Human Remains Of Sgt. La David Johnson Confirmed To Have Been Found In Niger By Military And FBI Officials
Widow Myeshia Johnson questioned if her husband's coffin was empty when she denied access to his body.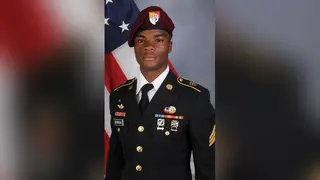 Additional remains found in early November by military and FBI officials have been confirmed to belong to fallen soldier Sgt. La David Johnson, who was one of four soldiers killed in Niger. 
According to a report by CNN, the Pentagon confirmed the additional remains were found near the ambush site where Johnson's body was found, leading some to speculate if parts of his remains were intentionally kept from his widow.
When Johnson's widow, Myeshia Johnson, first received his coffin, officials denied her access to open the casket.
"I want to know why it took them 48 hours to find my husband. Why couldn't I see my husband? Every time I asked to see my husband, they wouldn't let me," Myeshia Johnson told Good Morning America.
"I need to see him so I know that that is my husband," Johnson added. "They won't show me a finger, a hand — I know my husband's body from head to toe, and they won't let me see anything. I don't know what's in that box; it could be empty for all I know. But I need to see my husband."
There has been no public disclosure about whether these additional remains will provide any clues about Johnson's death or what happened to his body during the 48 hours he was missing.
A farmer in Niger reported Sgt. Johnson's body was found with his hands bound at the wrists, according to the Washington Post. Although US officials are also investigating this claim, the US military has not confirmed whether the accounts are true.