Music Superstars Who Rocked Las Vegas
Usher, Janet, Anita and more.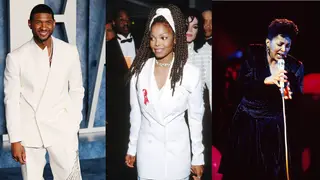 While Las Vegas is known as Sin City, it's also the city that brings out the greatest performers in the world. In the heart of the Entertainment Capital of the World, a constellation of stars has graced the stages with electrifying performances, helping tourism in Vegas go beyond gambling at casinos. Where the lights never dim, and the music never stops, here are superstars who have rocked Las Vegas. 
Usher

This year, Usher proved that his smooth vocals and magnetic stage presence perfectly fit the Las Vegas Strip. His residency, "My Way The Las Vegas Residency - Park MGM" wowed crowds with his R&B hits and innovative choreography. Usher's residency recently ended but we won't be surprised if he returns sooner than later. See the viral clip above of Tevin Campbell joining him on stage.

Bruno Mars

The dynamic Bruno Mars brought his unparalleled energy to Las Vegas with his residency, "Bruno Mars: 24K Magic," at the Park Theater in 2016. With his showmanship reminiscent of music legends, Mars thrilled audiences with explosive performances of his chart-topping hits.

Janet Jackson

The incomparable Janet Jackson is no stranger to the dazzling lights of Las Vegas. Her residency show, "Metamorphosis," graced the stage at the Park Theater in 2019. With a legacy that spans decades, Janet's residency was a testament to her enduring status as a pop icon.

Anita Baker

In May and June of 2022, the legendary soulful songstress held a residency at the Venetian. The show was so incredible she had to add additional dates. Baker will return to Sin City later in October.

Tina Turner

Decades before it was chic, Tina Turner, the iconic Queen of Rock 'n' Roll, graced the stages of Las Vegas after her divorce from Ike Turner. She performed at several casinos and had a limited engagement at Caesars Palace in the summer of 1977. It was the start of an iconic solo career, but Turner would return to Vegas many times over the years, no longer at casinos, but selling out stadiums. During her 1997 stop in Las Vegas for the Wildest Dreams tour, Turner said, "There's a lot of history of my early days of my career and I always look forward to coming back because I have so many fans here."