Nas Partners With Hennessy's Acceleration Fund To Empower The Next Generation of Black Entrepreneurs
Applications for the "Never Stop, Never Settle Society" will open on Tuesday, April 6th.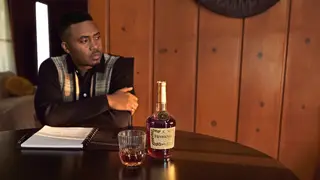 Hennessy, the French cognac distillery, is continuing its thriving partnership with Grammy-award winning and legendary MC, Nas. Their latest campaign is "Never Stop Never Settle Society," a comprehensive growth accelerator for Black entrepreneurship. 
In conjunction with the Marcus Graham Project (MGP), the joint venture seeks to provide equal opportunities for emerging Black entrepreneurs. Introducing the brand's new initiative, Nas narrates "Dear Destiny," a letter he penned to his daughter, produced by UNINTERRUPTED which debuted during the 52nd NAACP Image Awards on BET (Hennessy is one of the first corporate sponsors of the NAACP), paying homage to the rich legacy of Black Wall Street.
In the two-minute commercial, which is not only a love letter to his daughter but also to Black America, Nas writes, "Dear Destiny, standing still scared to death, holding you in my hands, I knew. I wanted you to see something I never saw; feel something our family had never grasped: Black excellence."
See the emotionally stirring video below:
"A narrative about family, legacy, entrepreneurship, and empowerment, Dear Destiny is a message to my daughter Destiny, and in many ways, the entire Black community. Inspired by Tulsa's hub of cultural activity and community-built success, it pays homage to the Black creativity and wealth that thrived during this time in history," says Nas during the commercial. 
"Nearing the 100-year anniversary of the Tulsa Massacre, I believe the powerful spirit of Black Wall Street is still strong and can be revived with programs like Hennessy's "Never Stop Never Settle Society."
In promotion of the campaign, during the 2021 NAACP Image Awards, Nas presented the first-ever "Never Stop, Never Settle" award, a celebration of Black entrepreneurship, to former WNBA player-turned-owner and executive, Renee Montgomery. Recently, Montgomery made history as the first former WNBA player to become an executive and a franchise owner of a WNBA team in her ownership of the Atlanta Dream.
"The 'Never Stop, Never Settle Society' builds on Hennessy's long-standing commitment to Black communities and ongoing mission to champion cultural diversity by pushing the limits of potential for Black entrepreneurs," says Jasmin Allen, senior vice president, Hennessy U.S. 
The collaboration seeks to provide access to entrepreneurs with the necessary resources that will have a social impact on Black communities.
Hennessy will be awarding a number of member benefits to qualified applicants including:
●  Financial assistance up to $50K will be gifted to selected participants whose work focuses on transforming the world through social impact.
●  Access to The Gathering Spot Connect, a Black-owned digital hub offering business development, networking, and educational resources to be administered to selected ventures.
●  Resources housed at the state-of-the-art office at Moët Hennessy's headquarters in New York City. Debuting late 2021, space will offer access to a content studio, various educational programs, and leadership opportunities for business mentorship.
Executives of both Moët Hennessy USA and the Marcus Graham Project will develop program initiatives, evaluate proposals of prospective participants, and base their selections on those ventures that can be accelerated. Additionally, the executive leadership will guide entrepreneurs to cultivate their business ideas over time.
Applications for Hennessy's "Never Stop Never Settle Society" will open on Tuesday, April 6th. For additional information on eligibility and membership visit NeverStopNeverSettle.org.