'Real Housewives of Potomac' Star Robyn Dixon Explains What Went Down With Season Finale Fight
There was a brawl involving Ashley's and Candiace's man.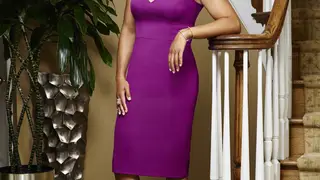 The finale of Real Housewives of Potomac airs December 6 and there is reportedly a fight that involves Robyn Dixon's ex-husband Juan Dixon.
Robyn told Too Fab that Juan was trying to break up an altercation between Ashley Darby's husband Michael Darby and Candiace Dillard's bae Chris Bassett.
"So Juan was trying to diffuse the situation. Juan is very good at, you know, kind of like separating people, trying to pull people apart," Robyn explained.
"He wanted no part of that. And so, he definitely had to jump in and try to attempt to get people under control."
She continued, "[Juan] wants no parts of anything like that.  Like, that's just not how he would conduct himself out in public. You know what I mean? He's a college basketball coach. And so that's really not something that you would expect to see from someone in his position -- to be behaving."
Robyn also added, "He's always the one trying to stop situations."
Watch a preview of Sunday's episode, here.
In the preview, there is also discussion about Juan and Robyn's relationship. They divorced in 2012 after seven years of marriage. However, Robyn and Juan got re-engaged in December of 2019.